Description
Litter Box Enclosure, Cat Litter Box Furniture Hidden, Wooden Enclosed Litter Box Cabinet, Cat Washroom Pet Crate Side Table, Living Room, Rustic Brown, BF036MW01
A Gift for Intimate "Meow": The cat is always running up to you when you come home after work. Life becomes more meaningful with a cat curling up next to you, watching TV and eating. The stylish and atmospheric looks of the cat washroom will not conflict with any interior decoration

Not Only a Cat Home Nightstand: Sized in 23.6'' L x 20.2'' W x 21'' H, the cat house is large enough for most of litter box. What's more, the decorative cat litter box furniture can be used as a coffee table, side table and maximum load capacity up to 220 lb

Even for Fat Orange Cat: Internal dimensions of the small divider, with large interior space, even for a big fat cat, the cat litter box furniture is big enough. Removing the divider, you can DIY an even larger space

Right to Privacy: Cats are inherently hyper-vigilant, which is why this cat washroom gives your cat the space to hide and poop at ease. With litter box on one side, the other side help catch litter before they exit, no cat litter scattered around

Easier Cat Care: Double cabinet doors and lock on the side of the pet house not only allows you to scoop the litter daily and store cat food more conveniently; it also is easier to get the litter box and mat out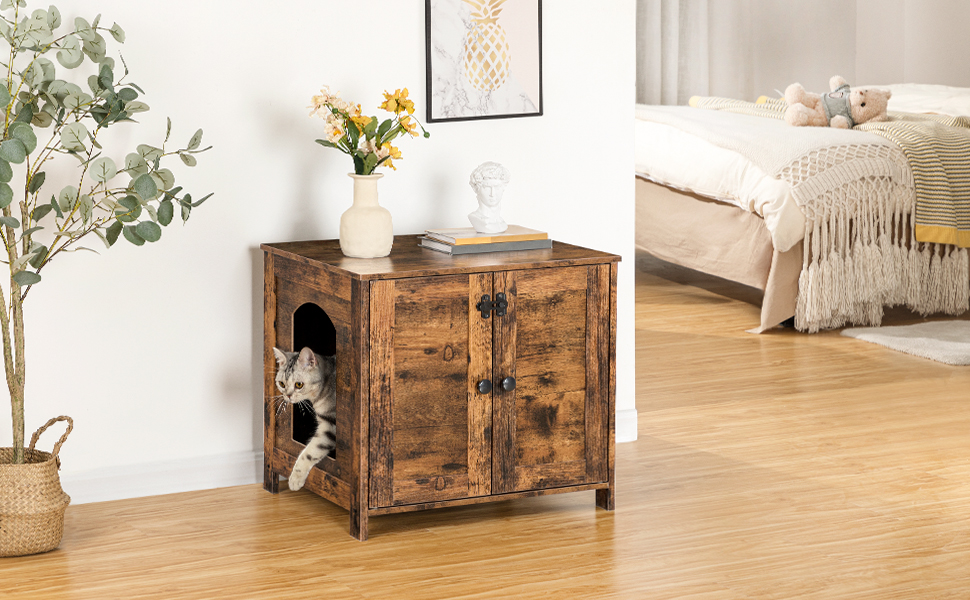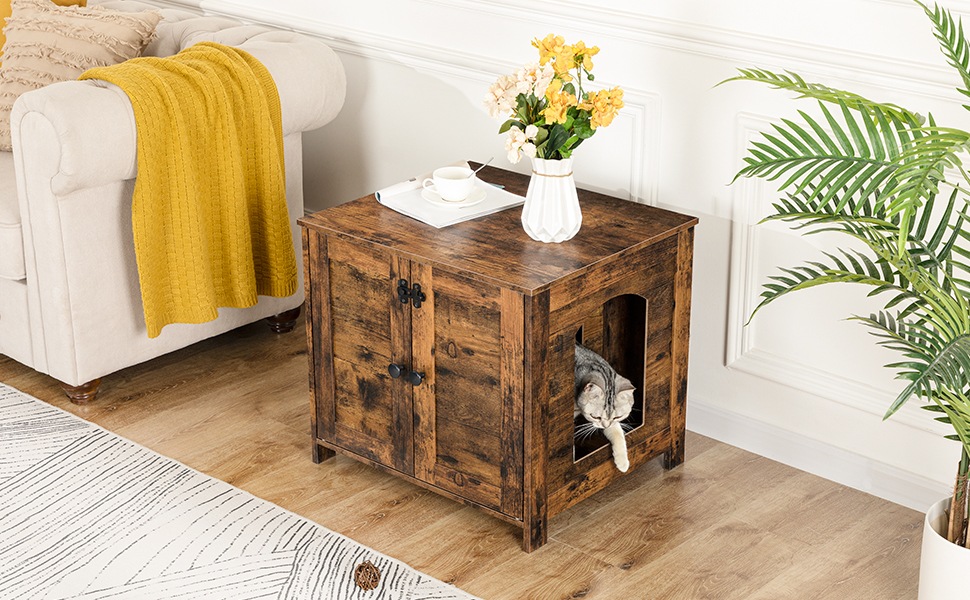 Specifications:
Color: Rustic Brown

Material: Particleboard

Size: 23.6'' L x 20.2'' W x 21.3'' H (60 x 51.3 x 54 cm)

Weight: 29.1 lb (13.2 kg)

Maximum Static Load Capacity of the Top: 132 lb (60 kg)

Maximum Static Load Capacity of the Bottom: 88 lb (40 kg)

Maximum Static Load Capacity : 220 lb (100 kg)
Package Contents:
1 x Cat Litter Box Enclosure

1 x Accessory Kit

1 x Allen Key

1 x Instructions
HOOBRO Notes:
Please Attention about children is not allowed to stand or climb the cat litter box enclosures to avoid potential injury caused by toppling
Multifunctional

Wide top space to organize your kitty gears, magazines, potted plants, etc.

Thoughtful Design

A certain space is reserved at the bottom for easy cleaning.

Easier Cat Care

Elegant handle and double cabinet not only allows you to scoop the litter daily and store cat food more conveniently; it also is easier to get the litter box and mat out.
If you love your pet but hate their litter box clashes with the well-arranged home, the cat litter furniture is an amazing answer.
HOOBRO litter box cover looks like traditional entry bench side table or nightstand, but functions as a great disguise your cat's litter box inside.
The cat greets to you in the hallway every day after work; spends the boring time with you in the living room; sleeps on the top surface and accompanies you at night. Life becomes better and more motivated. Even for a big fat cat, the cat litter box furniture is big enough.
No cat litter scattered around

Very easy to scoop the litter

Good at reducing unpleasant smell

Perfect size for your large covered litter box

Cats actively use it