Description
Cat Litter Box Enclosure, Hidden Furniture with Shutter Door and Cat Head Mat, Entrance Can Be on Left or Right, Cat Washroom Fit Most of Litter Box, Rustic Brown BF06MW01
MULTIFUNCTIONAL CABINET FOR CATS - The well-designed concealed cat cabinet with slat doors for good ventilation ensures that your cat does not feel uncomfortable when sleeping in it, even when the door is closed, also a cat head mat is included, which can be used as a coaster

Perfect size: external dimensions: 80 x 45 x 50.5 cm, fits most standard cat litter box, even for large thick cats, the cabinet is large enough. You can install the cat head entrance on the left or right side as needed, remove the divider and you have more space, maximum applicable size of the large litter box: 48 x 38 x 20 cm

WIDE TOP - This cabinet is equipped with a large panel on which you can display your favorite artwork or decorative items. If your cat likes it, it can also be a great place for a nap. Static load capacity of the cover plate 60 kg, static load capacity of the interior 20 kg

Sturdy and durable: the steel frame and the E1 chipboard ensure a sturdy construction and an easy to clean surface, the four iron legs with adjustable feet are flexible and can be adjusted to prevent scratching the floor

EASY INSTALLATION - We know you want to spend more time with your family members and friends. We have taken this into account for you, so that all Hoobro cat houses are made easier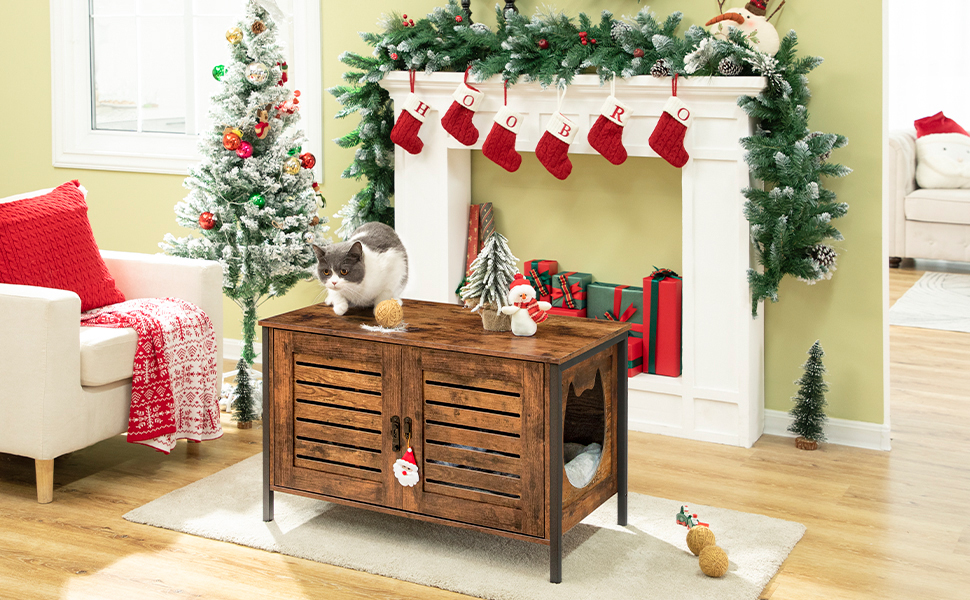 Are you still having trouble hiding your cat's litter box?
The Hoobro cat litter house is the ideal solution to hide the cat litter box or cat bed and unpleasant odours and create a comfortable, beautiful and odourless home for your cat. It covers the cat litter tray in an atmospheric and stylish way and fits perfectly into the rest of the decor. If you love your pet, then give them a warm and cosy home!
The Hoobro cat litter house looks like a conventional entrance bench, side table or bedside table, but hides the cat litter box excellently. With this very decorative cat house, you can easily avoid the mess of cat litter trays, enjoy your cat's company and hide cat dirt and pungent odours.
Bedside table cat litter house
Stylish home decoration and a cosy cat wardrobe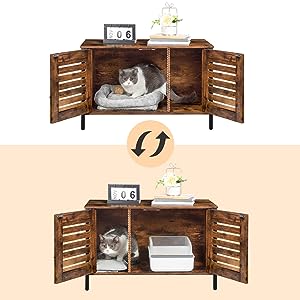 Specifications:
Colour: Dark brown / vintage
Material: Chipboard, metal
Size: 80 x 45 x 50.5 cm
Weight: 13.8 kg
Max. Static load capacity of the surface: 60 kg
Max. Static load capacity of the interior: 20 kg
Box contents:
1 x cat house,
1 x mounting accessories
1 x Allen key,
1 x instructions (English language not guaranteed)
Magnetic catch

The stylish and atmospheric look of the cat washroom will not collide with any interior

Sophisticated design:

The exquisite door closure is designed to ensure a firm and secure closure so you don't have to worry about it

Easier cat care

Practical door lock and double cabinet not only allow you to scoop the litter daily and store cat food more comfortably; it is also easier to get out the cat litter box and mat
Sturdy and robust structure

Plastic feet on the bottom

Another point - the width of the top plate: Cat cabinet with a large table top

Stylish home decoration and a cosy cat wardrobe