Description
Wall Mounted Coat Rack with Shelf, Wall Mounted Shelf with 10 Hooks and Rods, 60 x 30 x 42 cm for Hallway, Living Room, Bedroom, Bathroom, Industrial Style BF60YM01
The perfect match: Not enough floor space? Walls are too empty and unattractive? This wall mounted coat rack makes perfect use of your wall and is not only beautiful, but also practical

Strong and stable: thanks to the strong metal frame, the wall coat rack can last longer, and the hard screws can fix it stably on the wall, the shelf can hold 20 kg, the rod 10 kg, and each hook 5 kg

3 in 1 A space saving industrial style wall mounted coat rack made of rustic brown wood chipboard, with 10 hooks, 1 shelf (60 x 30 cm) and 1 clothes rail, takes up little space but offers more space

Simple and stylish: black retro design of the wall coat rack can be used hallway, living room, bedroom, bathroom, shelf can be used to display your favorite plants, coat hook can be used for hanging clothes or towels for bathroom

Easy to assemble: thanks to the easy-to-understand instructions, numbered parts and supplied accessories, you can assemble the wall coat rack quickly and easily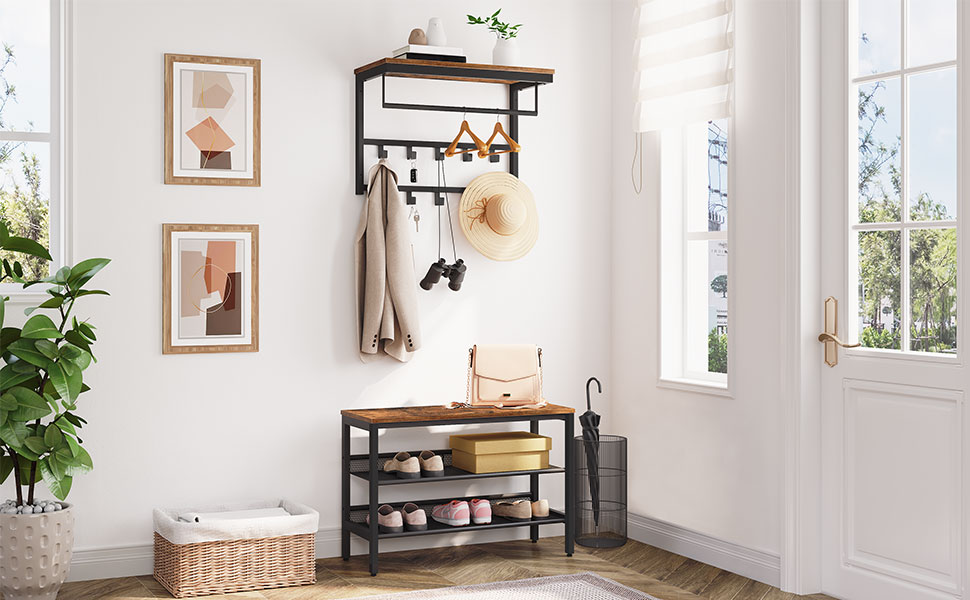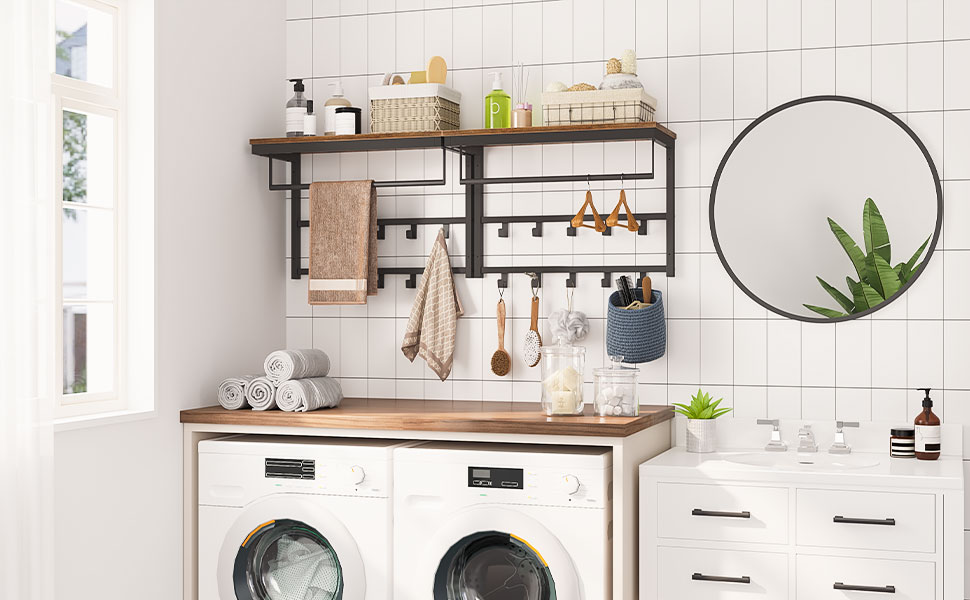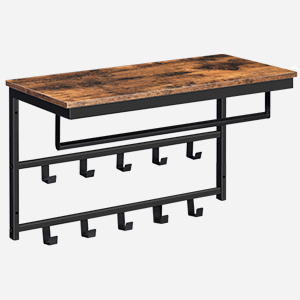 Hoobro wall shelf with 10 hooks and poles
It not only serves as a coat rack for hallway, living room and bedroom, but also can be used on the walls of the bathroom, with top shelves for your toiletries and coat hooks for hanging towels and brushes.
Product details:
Colour: Dark brown

Material: Chipboard, iron frame

Size: 60 x 30 x 42 cm (L x W x H)

Weight: 3.9 kg

Max. Load capacity of the shelf level: 10 kg

Max. Load capacity per hook: 5 kg

Max. Load capacity of the clothes rail: 10 kg
Box contents:
1 x wall coat rack
1 x mounting accessories
1 x instruction manual (German, English, French, Spanish, Italian)
3-in-1 design

The wall shelf combines a shelf, a hanging rod and 10 hooks to meet your different needs while taking up little space.

Practicality and decoration

Large storage space (60 x 30 cm) to store your favourite plants, photo albums, decorations etc. for a variety of needs.

Strong and sturdy

Thanks to the strong metal frame, the wall coat rack can last longer, each hook can hold up to 5 kg.