Description
Nightstand, Glass Side Table with Drawer and Shelf, Bedside Table for Living Room, Bedroom, Entryway, Stable Tempered Glass, Easy to Clean and Assemble, Rustic Brown and Black BF97BZ01
Exquisite Taste: Chic, luxurious, modern...There are countless ways to describe this glass side table. But one thing is for sure: the combination of retro-colored panels and tempered glass makes this nightstand a huge hit

Amazing Design: Use strong explosion-proof and new type of glass as the side table top. There is no need to worry about cleaning difficulties. No matter what, just gently wipe, and the desktop can look new immediately. Comes with drawer partitions: No need to worry about things that you want to store will be dusty or fallen apart

Large Storage Space: The size of the side table is 15.7"" L x 15.7" W x 21.7"" H. The drawer also offers privacy, which is also suitable as a bedside table. With a stylish industrial appearance, this retro end table is the change you have been waiting for

Best for Corners: Whether it is between the sofa and the armchair, or between the bed and the wall, this square glass table can double the storage space with its grid shelves and drawers. Don't give empty corners a chance

Easy-Peasy Assembly: Easy to set up in several steps. With the detailed instructions and clearly numbered parts, it takes no time to assemble the end table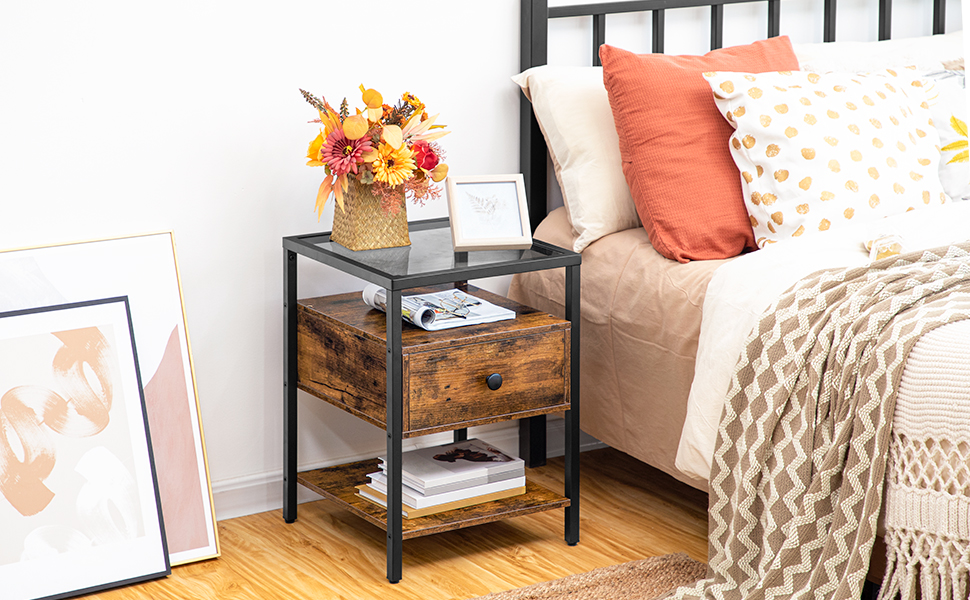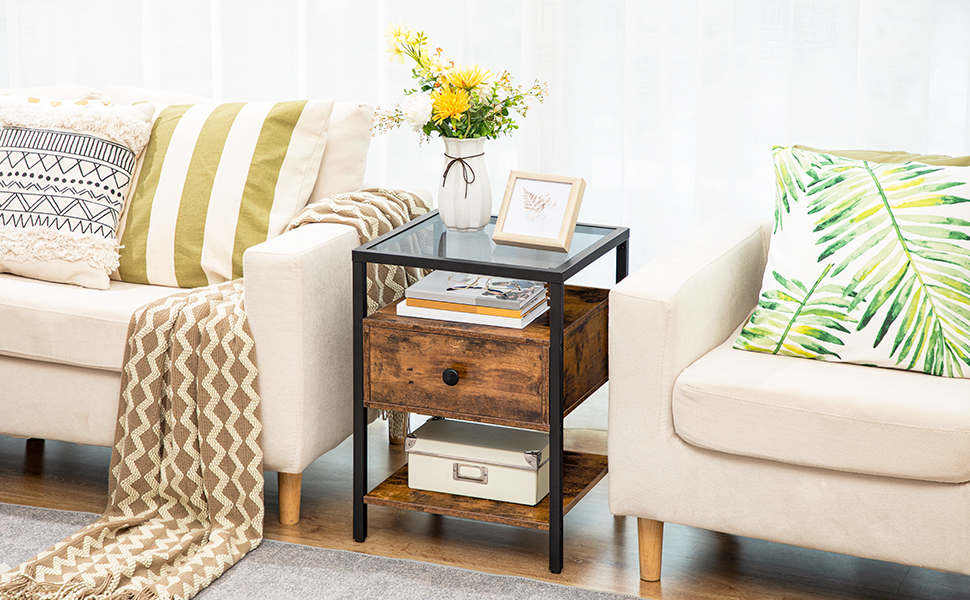 This beautiful coffee table is simple, practical and generous.
Ideal as a bedside table for the bedroom.
Ideal as a coffee table next to the sofa.
It can also be used in the office as a small shelf.
An elegant vintage style industrial side table that will complement any of your furniture.
If you're looking for the right side table, consider our minimalist art inspired side table.
Product details:
- Colour: black
- Material: wood chipboard, glass table, iron frame
- Size: 40 x 40 x 55 cm
- Weight: 10.52 kg
Box contents:
- 1 x bedside table
- 1 x mounting accessories
- 1 x Allen key
- 1 x instruction manual
HOOBRO Notes:
- Please position the bedside table so that the side table is not exposed to heat sources, direct sunlight or moisture.