Description
2-Tier Litter Box Enclosure, Shutter Storage Cabinet, Double Layer Hidden Litter Box Furniture, Large Size Storage Space, Multifunctional Hidden Cat House Furniture, Rustic Brown FG45MW01
2 Layers, More Surprises: Sized in 23.6 x 18.9 x 29.5 inches, our cat litter box enclosure has 2 tiers with capacious interior space. Upper layer with the dimensions of 21.7 x 15.7 x 10.2 inches is the right spot for cat necessities like cat food, cat litter or cat toys while the lower level measuring 21.7 x 15.7 x 15.7 inches is ideal for different-size cats

Stylish Shutter Door, Light and Breathable: The storage cabinet adopts shutter style, which is beautiful in appearance, fashionable and elegant, and can be easily integrated into various home decoration styles. The double-door design of the blinds not only transmits light, but also facilitates ventilation and maintains good air circulation inside

Utilize for Multiple Purposes: HOOBRO 2-tier litter box enclosure has a wide top(23.6''L x 18.9''W ) that performs well for potted plants, desk lamps, dolls and other ornaments. Then it will play the role of a noble end table. You can use this cat litter house with functions of side table and storage cabinet in your living room, bedroom or corridor

Assemble Arc Entrance Door Freely: There is a side arch entrance sized in 8.3''L x 10.2''H. The large-caliber cat hole even allows larger adult Maine Coons to easily pass through and supports cats who like to parkour to play unimpeded, making cats more happy. The elegant arched doorway is designed as if a cat's Alice garden is hidden behind the door. You can choose to install the cat hole on the left or right side according to your personal needs

Easy to Assemble and Clean: The package comes with detailed instructions, numbered parts and necessary tools, so you can assemble this cat litter box furniture in a breeze. The high-quality particleboard has smooth finish for your easy cleaning just with a wet cloth to wipe gently. Get this comfortable and warm house for your beloved pet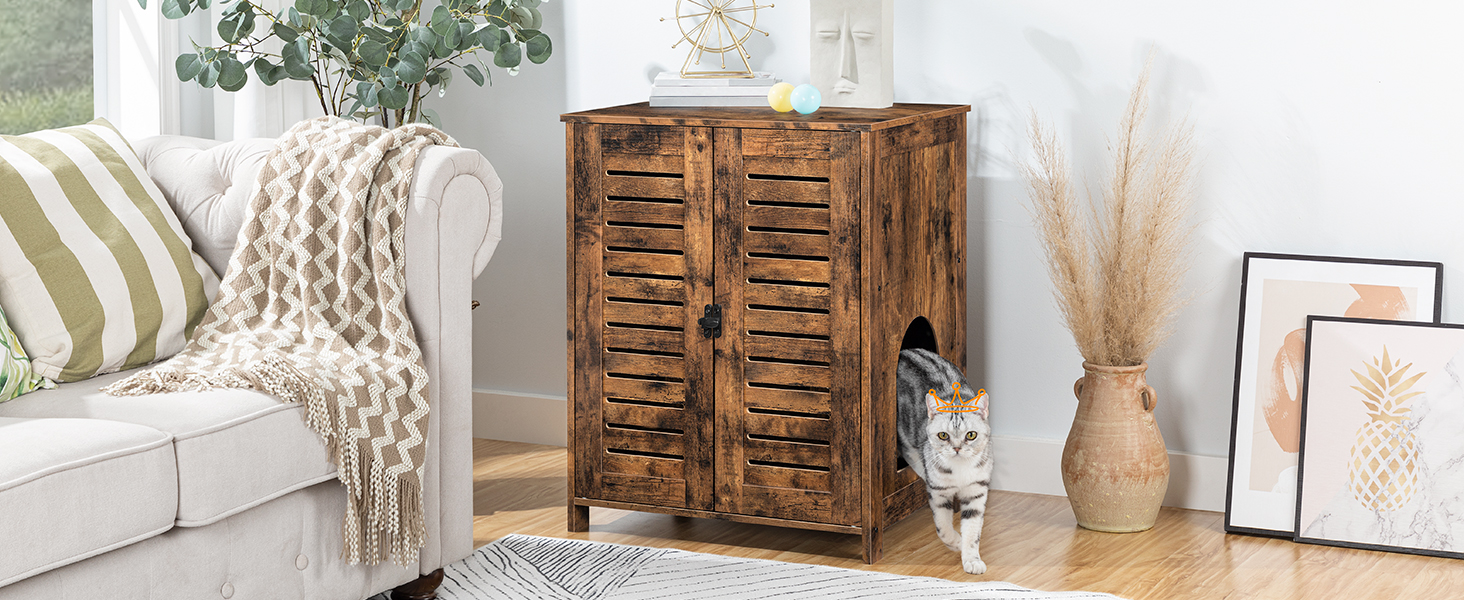 HOOBRO Cat Litter House
Are you bothered by the litter splashing around? Do you want to give cats more privacy?
HOOBRO double layer cat litter house will perfectly solve your problem! This louver type hidden cat litter house has a double-layer design and large internal space, which can be used to place cat litter basins in different sizes. The large arch door is also suitable for cats of various shapes, stopping your worry of cat litter on the floor after the naughty kitty finishes using the toilet.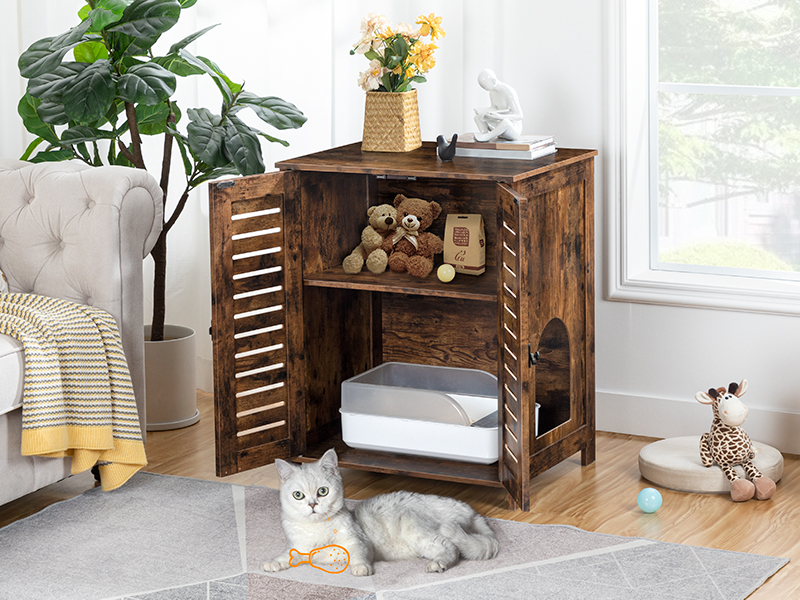 | | |
| --- | --- |
| Color | Rustic Brown |
| Material | Particleboard |
| Product Size | 26.3 x 18.9 x 29.5 inches (L x W x H) |
| Product Weight | 34.5 lb |
| Max. Static Load Capacity | 66 lb |
| Package Contents | 1 x 2-Tier Cat Litter Box Enclosure; 1 x Accessory Kit; 1 x Instructions |
Detail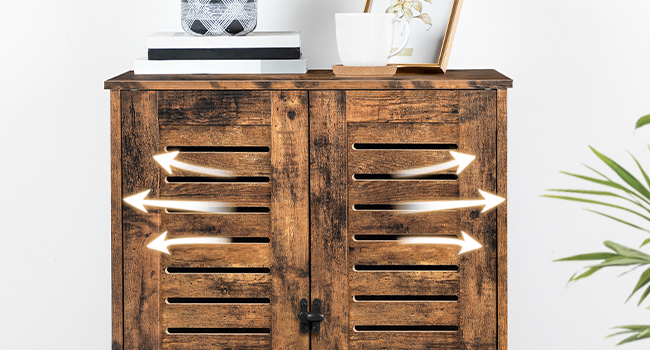 Blinds Double Door Design
Stylish and rustic shutter double door keeps soft light and good breathability, and the magnetic device eases the door opening and closing as well as your daily cleaning.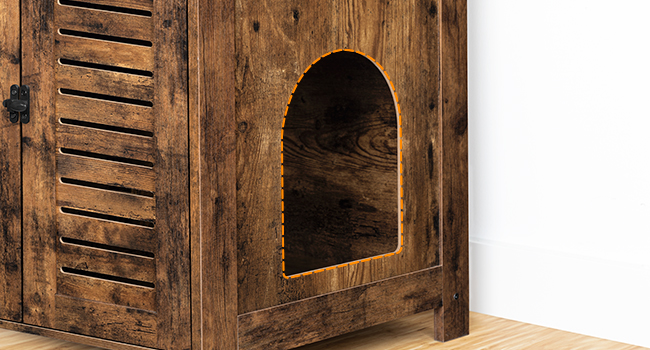 Wide Arc Entrance
The large arc entrance fits for most cats even including fat kitty to easy access, noble and fashionable.
HOOBRO Notes:
- This product requires installation.
- Children are not allowed to climb or play on the product.