Description
Storage Chest, Storage Bench with Safety Hinge, Retro Storage Organizer, with 75 cm Storage Trunk, Enclosure On Top, Supports 100 kg, Entryway Shoe Bench, Easy Assembly, Rustic Brown BF80CW01
Perfect Size: The size of the storage chest is 75 x 40 x 56 cm, and the carrier plate bears the weight of 100 kg. This hidden compartment can be used to store blankets, books, clothes, etc. The perfect exterior appearance makes this storage cabinet multifunctional as a stool or a bench to sit on

Safe and Secure: Storage chest front panel has the grooved cutout, which is easy to open and close to ensure the safety of people. Storage chest is equipped with hinge to ensure the safety of opening and closing every time and avoid the sudden closing of the cabinet

Perfect Storage Function: Organizing and storing isn??t what anyone can be good at, but they can be cultivated in the right way. This storage chest can be used to exercise hands-on skills, develop good and independent habits from an early age that will last a lifetime

Sturdy and Long-Lasting: The storage chests and trunks is what you need because it is made of high-quality particleboard with sturdy construction. Upon the structure, this storage chest presents strong bearing ability of an adult??s weight. You will feel safe when you sit on this storage organizer

Easy to Assemble: This storage trunk is very simple to put together. You'll have the wooden box ready for use in no time. No more confusing instructions and impossible manuals, just simple clear guides to get the storage chest done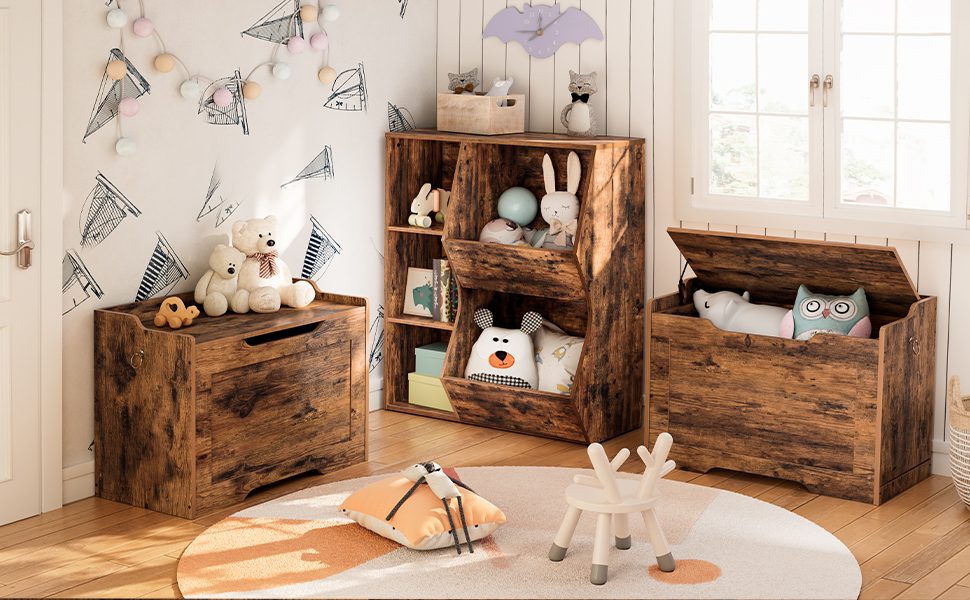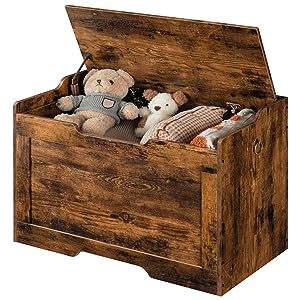 HOOBRO Storage Chest, Wooden Toy Box Organizer
It is a stylish storage option for the living room, game room or bedroom. This storage chest bench has a spacious interior space, which provides plenty of space to store things of all sizes. The inside of the storage cabinet adopts a slow-closing cover design, which can prevent hands from being clamped, and is a safe choice for your. The front panel has a vent design, which is safe and secure, and it is also convenient to open and close.
Specifications:
Color: Rustic Brown

Material: Particleboard, Metal

Size: 75 x 40 x 56 cm

Package Contents: 1 x Storage Chest; 1 x Accessory Kit; 1 x Allen Key; 1 x Instructions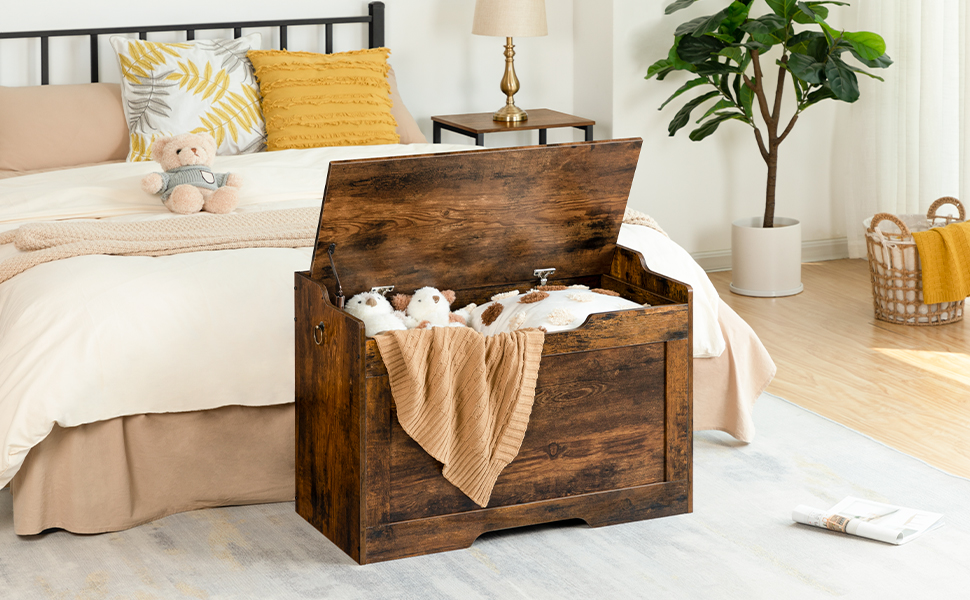 Round Corner & Smooth Edge

The storage chest has been carefully designed with strong, sturdy wood to last through years of use.

Safe and Secure

The built-in safety hinge can be slowly closed to protect the safety of family members.

U-shaped Cutout

Handle slot on front is a comfortable way to open the lid, and at the same time serves as a safe vent to keep the box dry.