Description
Dog Crate Furniture, Wooden Dog Crate, Dog Kennels with 3 Doors Indoor, Decorative Mesh Pet Crate End Table for Medium/Small Dog, Chew-Resistant Dog House, Rustic Brown and Black BF83GW03
Sturdy Structure and Ventilation: This dog crate furniture sized in 31.5''L x 22''W x 25''H which is suitable for most small and medium-sized dogs and provides a large living space. The stylish appearance and retro style will be perfectly integrated with your room decoration. You can use it as a bedside table, side table, etc. in the bedroom, living room

Open Doors on Both Sides: The furniture-style dog crate, multiple entrances and a latch on the top make the dogs more convenient to enter and exit. You can open one of the doors according to the location of the dog furniture. Above the dog kennel, large panel will be a great place to store dog toys or add a pot of green plants, or put some magazines, and a cup of coffee to create a side table for afternoon tea

Back to a Quiet House: When the dog is still a little wary of strangers, you can safely leave your dog in its big and warm wooden dog kennel. The metal grid of dog crate is to isolate the pet and the guest. It greatly protects your dog's safety and avoid any fright

Interaction Moment: Above the door, you will be provided with a space to soothe the dog's emotions. When it is irritable, touching its head to interact with it will help the nervous puppy feel safe and relaxed, and eliminate its loneliness. And it maximizes the ventilation inside, giving the dog enough comfort

Easy as ABC: In order to deliver a pleasant shopping experience, we simplified the assembly method and steps. With the numbered parts and comprehensible instructions, even a child completes the assembly quickly without great effort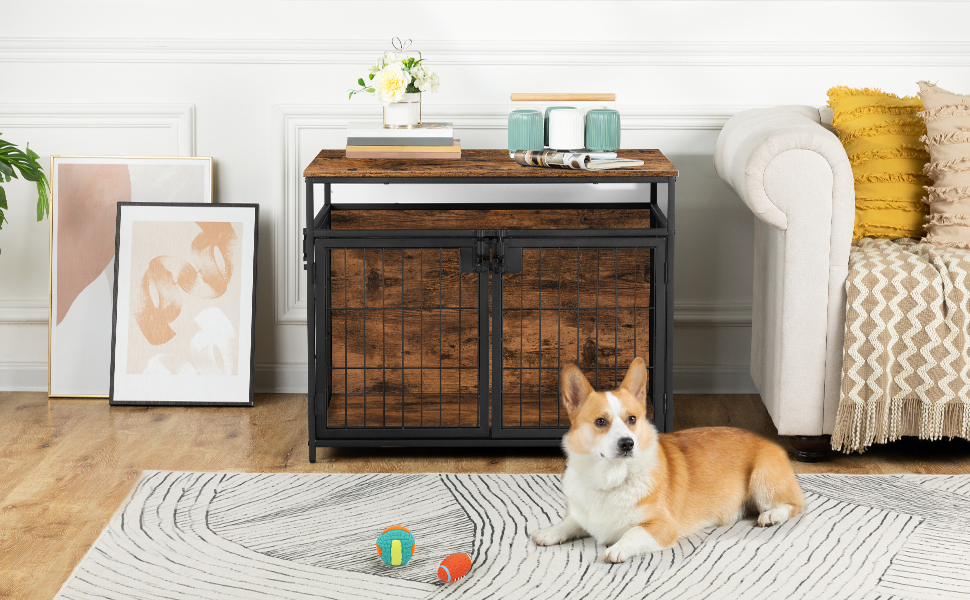 When you get home from work, the dog always happily run to your side, snuggling by your side, making life more interesting! But are you worried about nowhere to put your dog in the house? HOOBRO dog furniture will provide your dog with security and comfort.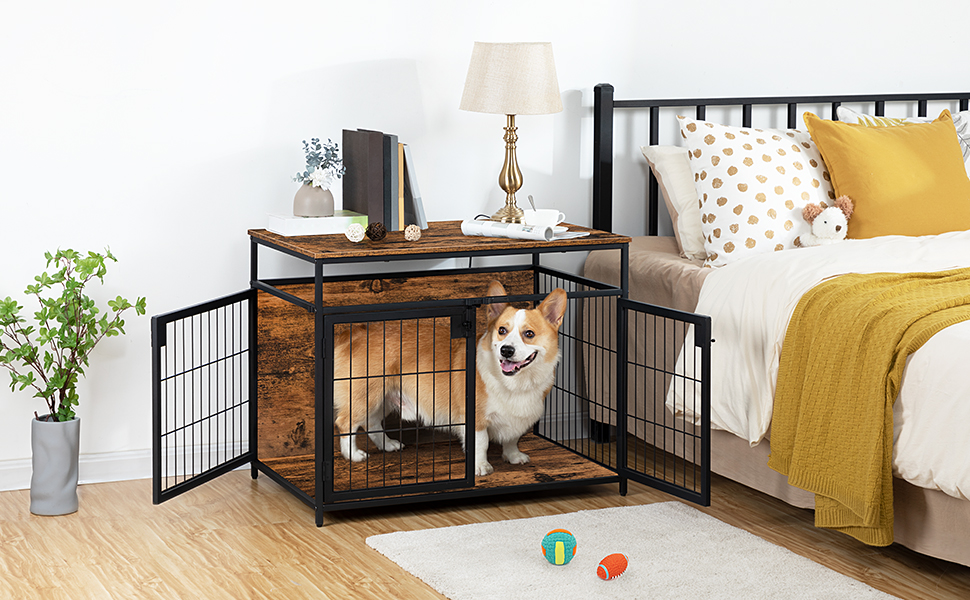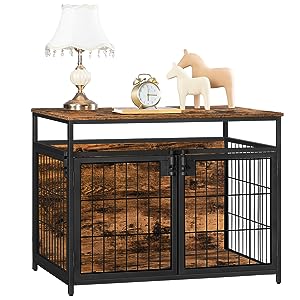 Product Details:
Color: Rustic Brown, Black

Material: Particleboard, Steel

Dimensions: 31.5"L x 22"W x 25"H ( 80 x 56 x 63.5 cm)

Inner Size: 29.5"L x 20.1"W x 21.6"H (75.4 x 51 x 54.8 cm)

Product Weight: 40.1 lb(18.2 kg)

Maximum static load capacity of internal plates: 60 lb (27.2 kg)
Intimate Design:
It has a large tabletop for placing dog supplies.
Sturdy and Durable:
Wooden material and chew-proof steel frame structure can ensure pet safety, increase durability and service life.
If you love your family member, treat him well with warm and comfortable home! The retro-colored dog cage is more like a piece of traditional furniture, with an industrial style and not lacking a sense of fashion, allowing your dog to have a personal space.
Sturdy Lock

The lock is very sturdy, your dog will not be able to open it, and you don't need to worry about your dog running out.

Particleboard

Premium particleboard ensures the bottom's friendliness to your favourite pet' feet.

Give Pets More Care

When it is irritable, touching its head to interact with it will help the nervous puppy feel safe and relaxed, and eliminate its loneliness.

Adjustable Feet

Stabilize the dog furniture even on a slightly uneven floor, and protect your floor from scratches.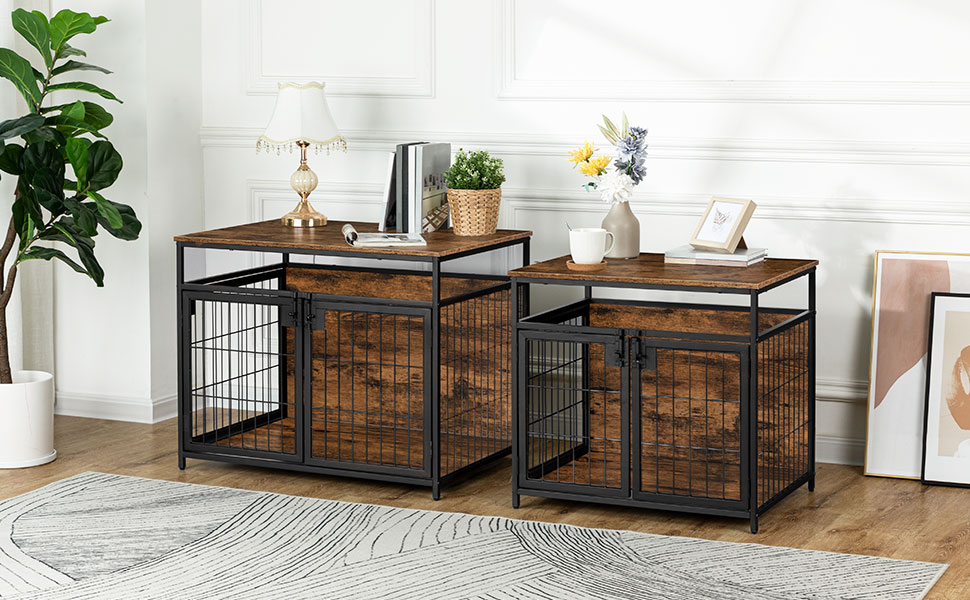 HOOBRO Notes:
Please attention about children is not allowed to stand or climb dog crate end table to avoid potential injury caused by toppling.