Description
Wooden Cat Tree, Versatile Cat Tower with Scratching Post, Cat Hammock and Food Bowls, 4-Tier Pet House for Indoor Cats, Multi-Cat Families, Greige BG34MZ03
Home Decoration, Cats' Wonderland: Greige panels and black metal complement each other to manifest the elegance and nobleness of this industrial cat furniture. It can not only decorate your home, but also become a magic castle for cats. The multi-layer cat tree integrates cat scratching board, sisal post and hanging balls to help cats exercise by climbing, grinding claws and playing

Cats Sleep Sweeter: This feature-rich cat tree adopts the thoughtful design of multiple resting places like a square cat home, a hammock and plush cushions at the top and second level, comfortable and aesthetic. This cat tower with many functions is very practical for families that have many cats to terminate the awkwardness of lacking territories

Well-Prepared Bowls for Food and Water:Your cat is exhausted from climbing up and down, and its stomach is growling? Calm down, there are two cat food bowls at the bottom to suffice cat's drinking and eating needs. In addition, the cat food bowls are at a certain height from the ground, which can effectively protect the cat's neck

Assured Quality of Materials: The combination of high-class chipboard and strong metal bases the great quality of this functional cat tree so that cats can achieve free climbing and jumping. The scratching post is made of natural sisal ropes, tightly-wound and serviceable for cats to sharpen their claws

Setup and Cleaning, A Little Thing: You can follow the detailed instructions to connect each part with required tools and enjoy a happy assembly process. The top and middle soft cushions are detachable and can be easily cleaned with a sticky roller. You can remove the bowls to carry out the daily cleaning, very convenient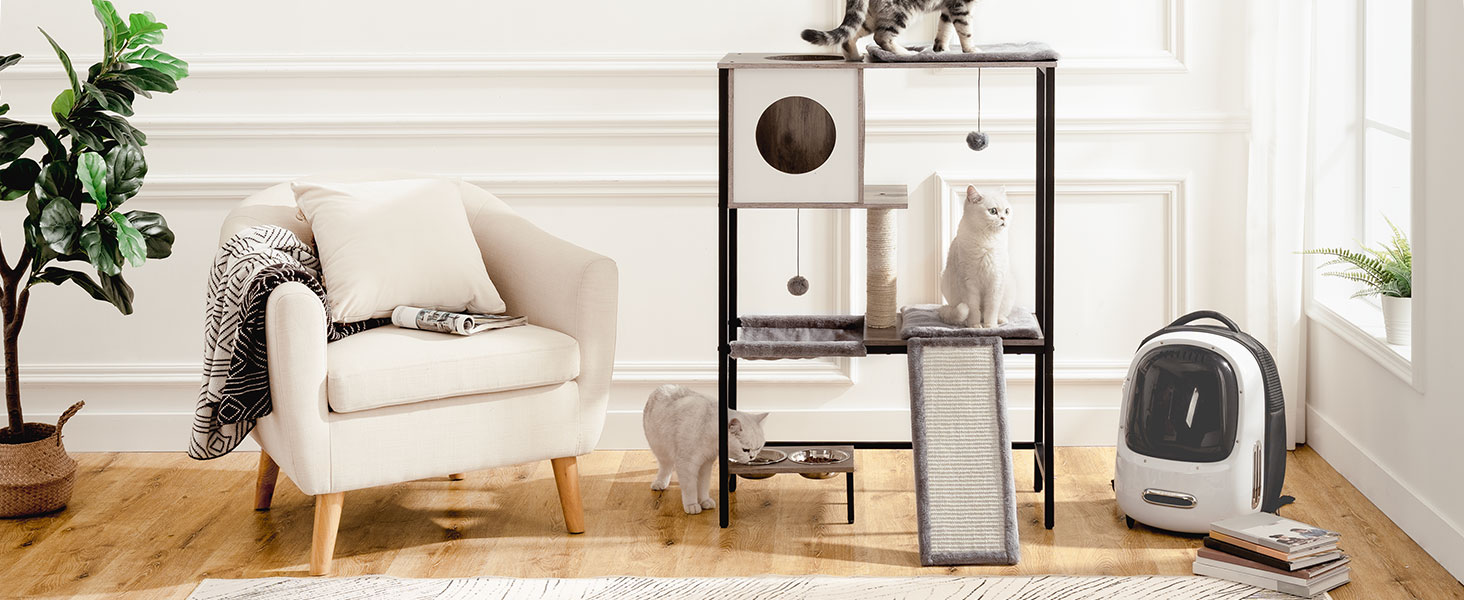 HOOBRO Feature-Rich Cat Tree, A Wonderland for Cats!
This cat tree is designed with care to create a fantasy paradise for cats that integrates playing, resting, exploring, relaxing, eating and other functions. It can not only save space and improve the taste of home, but also allow your cat to play joyfully, sleep soundly and eat happily!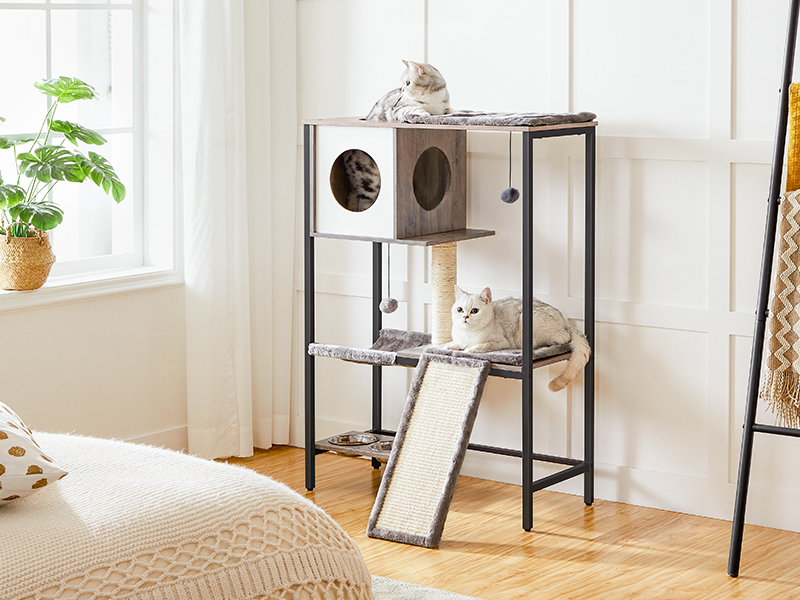 | | |
| --- | --- |
| Color | Greige, Black |
| Material | Particleboard, Iron, Plush, Sisal Rope |
| Product Size | 29.5"L x 13.4"W x 42.1"H |
| Product Weight | 31.3 lb |
| Package Contents | 1 x Cat Tree; 1 x Accessory Kit; 1 x Anti-Tip Kit; 1 x Instructions |
Detail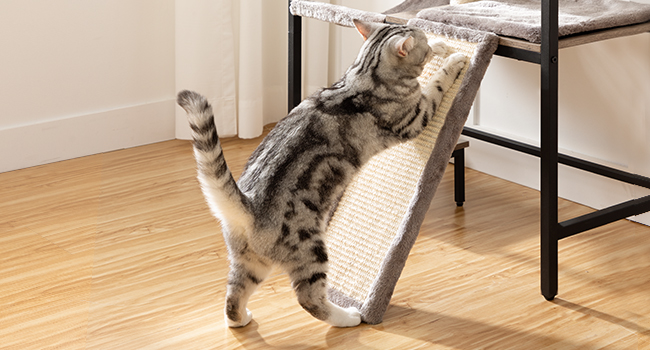 Sturdy Scratch Board
The cat scratching board is connected to the ground and the cat tree, realizing multiple functions including cat's hobby of sharpening its claws, climbing and playing.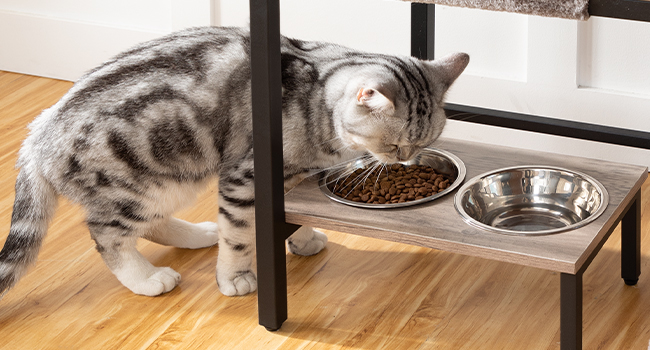 Intimate Food Bowls
2 separate cat food basins at the bottom are for cats to drink and eat. The detachable design saves time and effort for daily cleaning.
HOOBRO Notes:
- This product requires installation.
- Children are not allowed to climb or play on the product.