Description
Wall-Mounted Clothes Rack, Set of 2 Pipe Clothes Rack, 29.7 inches, Iron Pipe Clothes Hanging Bar, Heavy Duty Garment Bars, Multi-purpose Hanging Rods for Closet Storage, Black BK01BJ01
Eternal Industrial Style: Do you find empty walls too dull and unused? All kinds of heavy jackets are stuffed into the wardrobe? It's time to discover the charm of this iron piper clothes rack with flange boutique style
Fitted Length and Width: The wall floating mounted clothes are 29.7 inches long and the distance from the wall is 9.8 inches, so your little black dress won't get scuffed by the white wall when hanging on. The Diameter of Flange is 2.8 inches, Pipe Clothes Rack provides enough storage space and allows room for all different types of hangers
Life Much Simpler: This multifunctional hanging rack set instantly turns a unused hallway into a walk-in closet. Or works as a dryer rack in a laundry room. How about using Wall-Mounted Clothes Rack as the bathroom holder for hand towel and bath towel in the bathroom? Iron pipe clothes hanging bar of the weight limit per bar is 110 lb
Free Combination: You decide the shape of the hanging rods according to your preferences, and even combine them or use them separately. It depends entirely on your creative idea
Thoughtful Accessories: Two kinds of expansion anchors are included in order to ensure that these pipe clothes rack can be hung on the wall firmly, whether concrete or hollow brick wall
| | |
| --- | --- |
| Color | Black |
| Material | Steel |
| Size | 80x25x7cm / 31.5" L x 9.8" W x2.8" H |
| Load Capacity per Shelf | 110 lb (50 kg) |
| Package Contents: | 2 x Clothes Rack; 1 x Accessory Kit; 1 x Allen Key; 1 x Instructions |
Free up Some Floor Space: Want to tidy up piled up clothes in the closet or messy scarves in the drawer? Try this HOOBRO clothes rack! With a 31.5" length and wall-mounted design, it accommodates lots of clothes and saves room space.
High quality material: this Wall-Mounted clothes rack is made of black strong cast iron pipes, very durable.
Come with detailed instructions, easy to assemble and install it on wall.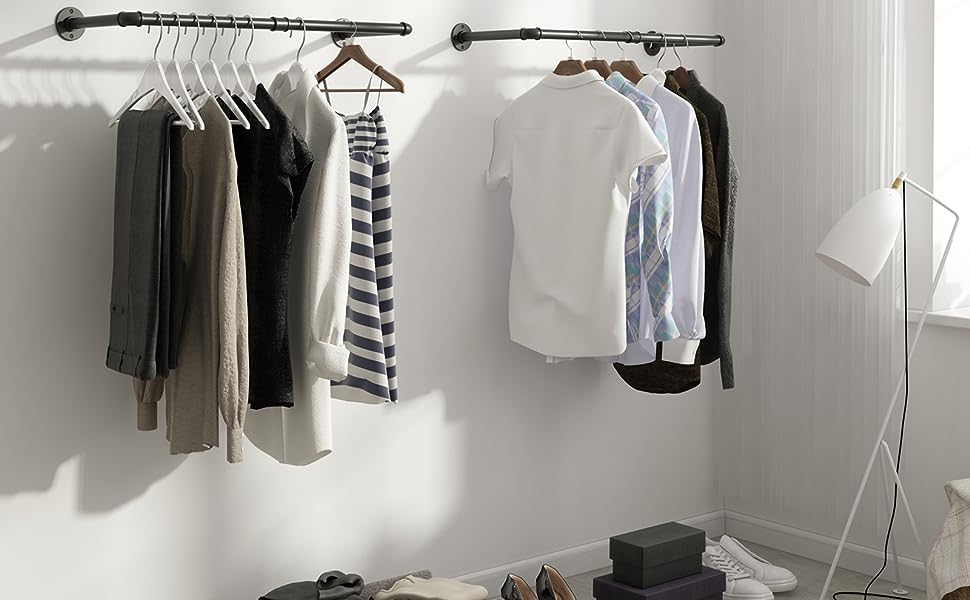 Eternal Industrial Style:
Do you find empty walls too dull and unused? All kinds of heavy jackets are stuffed into the wardrobe? It's time to discover the charm of this industrial Pipe Clothes Rack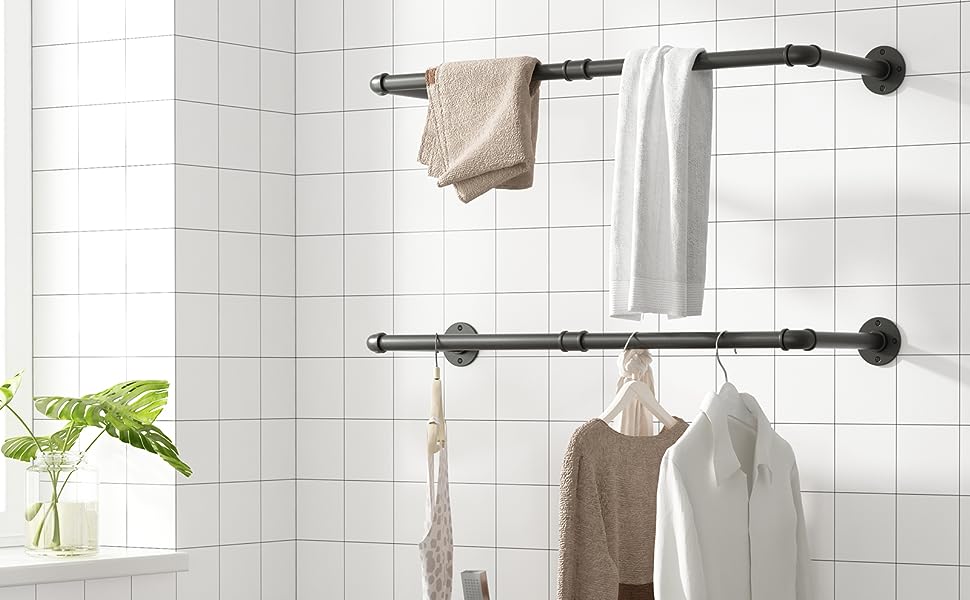 Industrial pipe clothes rack are 75.5 cm long and the distance from the wall is 25 cm, the Diameter of flange is 7 cm, which provides enough storage space and allows room for all different types of hangers
| | | |
| --- | --- | --- |
| | | |
Each metal rail is ready to hold up to 50 kg, Industrial Pipe Clothes Rack instantly turns a unused hallway into a walk-in closet. Or works as a dryer rack in a laundry room. Wherever you use, clothes rail will always come into full play
Lack of enough storage space in your wardrobe?
Are your walls still very empty and are not used well?
Head up! This wall shelf makes any empty wall an attractive place to decorate the wall while providing you with storage space!
Product details:
Colour: Black
Material: Steel
Size: 75.5 x 25 x 7 cm (L x W x H).
Weight: 2.8 kg.
Max. Static load capacity per clothes rail: 50 kg
Box contents:
2 x clothes rail
1 x mounting accessories
1 x Allen key
1 x instructions
Hoobro notes:
Please position the clothes rail so that it is not exposed to heat sources, direct sunlight or moisture.