Description
Luggage Rack, Folding Luggage Racks for Guest Room, Suitcase Stand, 27 x 15.3 x 22 Inches, Metal Foldable Luggage Holder with Nylon Straps, Space Saving, Bedroom, Hotel, Black BK03XL01
Easy Packing and Unpacking: This hotel-style luggage rack allows you to pack and unpack quickly, keeping your luggage away from the floor. Without having to bend over, you can easily reach the clothes you need, and without having to put all your luggage in bed, your life is as orderly as it is even when you're on the go

Folding Design, Free Operation: This suitcase stand is mainly made of iron pipes, which is strong enough to hold a suitcase up to 100 lb. Designed in simple structure for quick storage, this luggage rack is breezy to fold in seconds and can be put into the closet, under the bed or the sofa, no need of extra space

Multipurpose Helper: This luggage rack has 2 layers. The top rack is composed of 5 strong nylon straps for better holding your suitcase while the bottom layer is a mesh shelf made of nylon straps for your storage needs of shoes, handbags or other little things. 2-layer luggage stand offers the right place to store items in different sizes and plays its value in your trips or home life

Necessary for Guest Rooms: You may need a moment stop during the hurried life journey but have nowhere to place your carry-on luggage. This metal suitcase stand can be your tour pal who can organize your luggage with a gentle deployment and what you need to do is to feel the natural scenery casually. You will have no hassle in preparing rooms when friends come to visit because this luggage rack stands by your side and then you can have more time to create cherished memories with your friends

Easy to Assemble: With clear instructions and an Allen key included, this luggage rack will be set up easily, helping you pack for the next trip!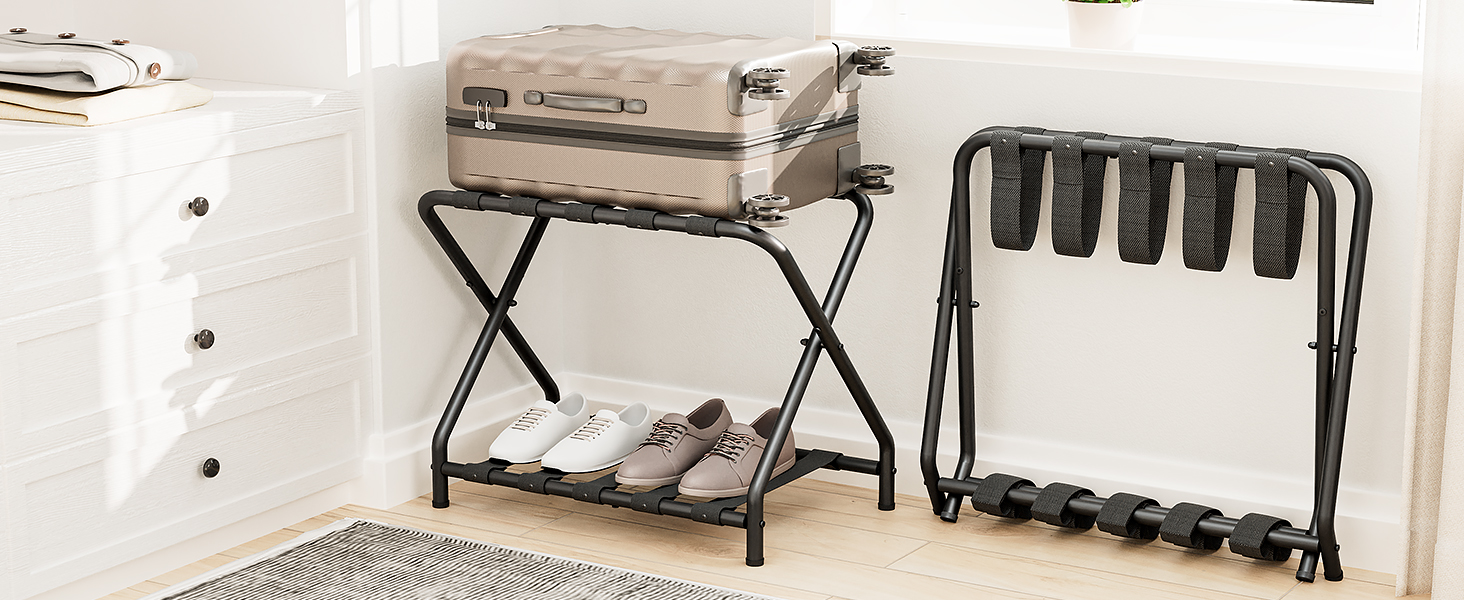 Double Tiers Suitcase Stand
It is perfect for rooms, rentals, hotels, or anywhere you like. Don't need to put suitcases on the floor or bend over to get them.

Just sit on the bed and easily organize your suitcase in a comfortable position.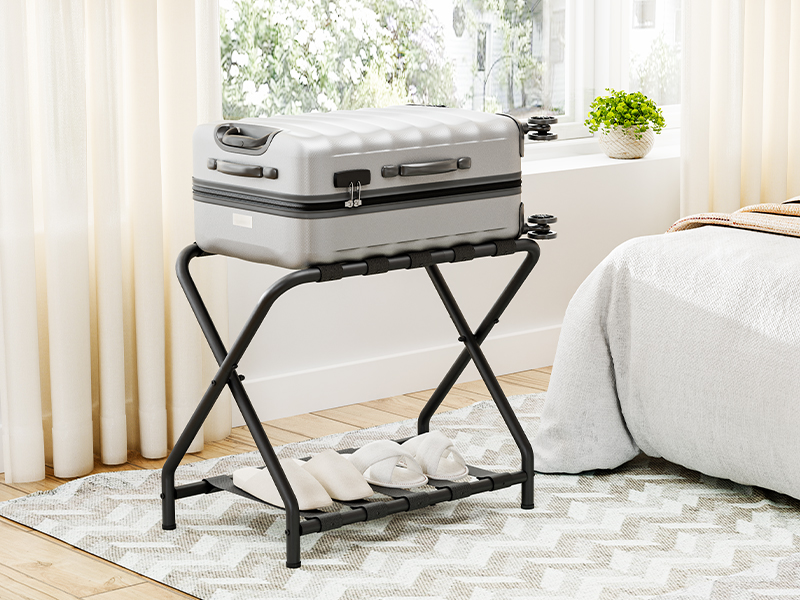 Folding Luggage Rack for Guest Room
Color: Black

Material: Steel, Heavy-Duty Nylon Straps

Overall Size: 27"L x 15.3"W x 22"H

Max. Static Weight Capacity: 100 lb

Package Contents: 1 x Luggage Rack; 1 x Accessory Kit; 1 x Instructions