Description
Litter Box Enclosure, Cat Litter Box Furniture Hidden, Enclosed Cat Toilet, Litter House, Large Size, with Extra Storage Space, Side Table, Coffee Table, Nightstand, Rustic Brown FG038MW01
Individualize Assembly: Depending on the placement or habits of the cat, you can install the cat entrance on the left or right side of the litter door. The large cat hole (9" long, 9.5" high) is very easy for cats to enter and exit, and even the large adult Maine can come and go freely. The arched door design, elegant with a touch of mystery, makes the litter box enclosure perfectly transformed into a secret base for cats

Spacious Interior, Intimate Divider: The internal dimensions of this litter box furniture are 29.4"L x 16.5"W x 15"H, and the space is very spacious. The internal partition baffle design divides the lower floor space of the cat litter box enclosure furniture into two different sizes. You can place litter boxes or scratch boards of various sizes, which makes this cat box furniture hidden an exclusive cat toilet or bedroom for cats of different sizes. The divider also has arched door, so the cat can freely move between the two spaces inside

Double Layer Design for Extra Space: Our hidden litter box enclosure consists of a spacious tabletop, an open partition and a double-door cabinet to give you extra storage space. You can place decorations such as greenery on the top panel. The open shelf can also be used to store pet supplies or other items such as books and magazines, and the back baffle is designed to prevent items from falling. The double-storey storage space design greatly improves the practicality of the cat litter box enclosure

Decorate Home in Uniqueness: Our hidden cat litter box is uniquely designed and versatile, with multiple layers of storage space that makes it a functional locker or a practical side table. The litter box enclosure furniture is stylish and beautiful, whether you put it in the bedroom and, living room or hallway, it can easily fit into your home style, become a stylish embellishment, and perfectly hide the entity of the cat toilet without a sense of conflict

Assemble as a Fun: The cat litter box is made of high-quality particleboard with a smooth surface and easy to clean. Magnetic double door design makes opening and closing more labor-saving and convenient, and the internal cleaning work is also easier. You will receive a clear and detailed assembly instruction guide, numbered accessories and all the necessary tools to make assembly simple and fun, and use your hands to create a warm and comfortable home for your beloved cat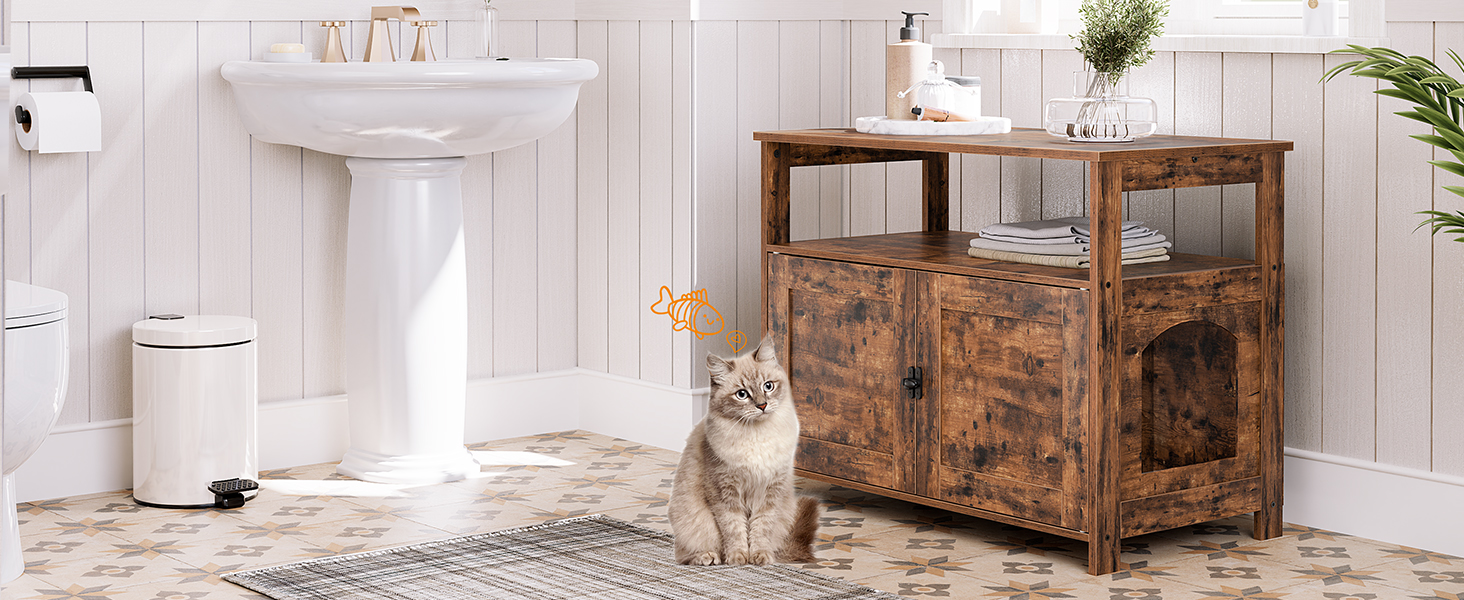 HOOBRO Cat Litter House
For Cats, But Also For You!
For cats: The hidden cat litter house is designed to give more privacy to cats who like quiet. The divided interior space and double-arch door opening design can attract cats' curiosity.
For you: Double storage space frees you from the worry about too many cat supplies and nowhere to put them. With its wide top plate design, the cat litter house turns into a practical side table. The double door design makes it more convenient for cats to clean the litter box.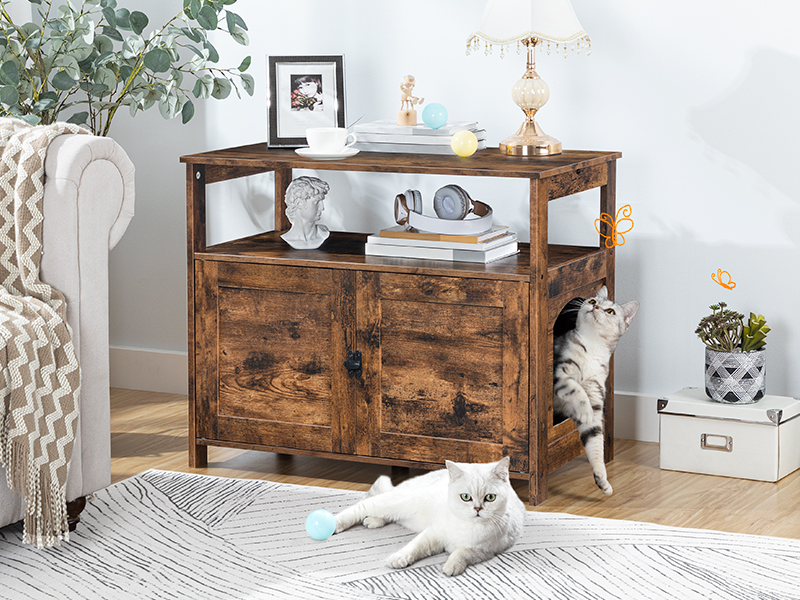 | | |
| --- | --- |
| Color | Rustic Brown |
| Material | Particleboard |
| Product Size | 31.5 x 17.7 x 25.6 inches (L x W x H) |
| Product Weight | 36.3 lb |
| Max. Static Load Capacity | 66 lb |
| Package Contents | 1 x Cat Litter Box Enclosure; 1 x Accessory Kit; 1 x Instructions |
Detail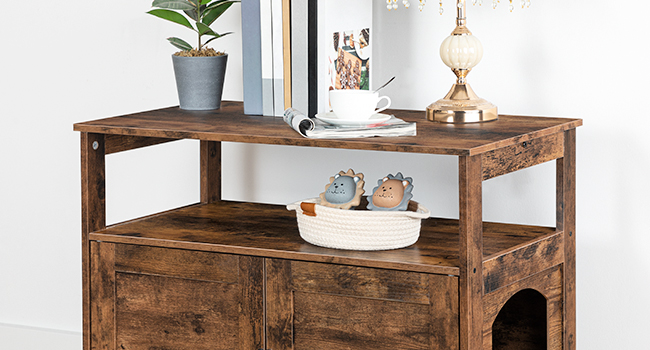 Open Storage Shelves
The wide top panel combined with the open partition provides you with more storage space, thus transforming the cat litter box into a multifunctional storage cabinet and side table.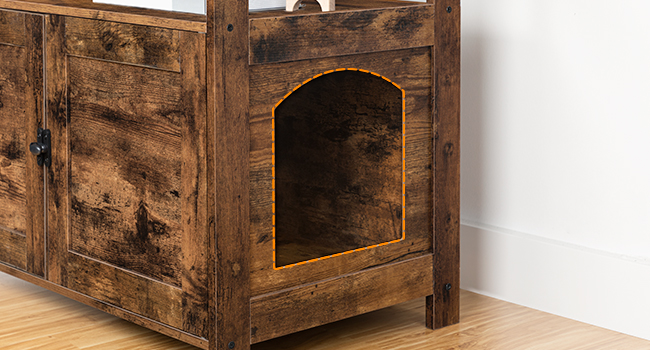 Wide Arc Entrance
The large arc entrance fits for most cats even including fat kitty to easy access, noble and fashionable.
HOOBRO Notes:
- This product requires installation.
- Children are not allowed to climb or play on the product.