Description
End Table with Charging Station and LED Lights, Nightstand with Drawers and Storage Shelf, Side Table with USB Ports and Outlets, for Small Space, Bedroom, White WT623BZ01
Nightstand with Charging Station: Your cell phone is dead at night? Is the laptop running out of power? TThe charging station with 4.9ft long power cord includes two 3-prong outlets and 2 USB ports is ideal for charging your phone, laptop and other electronic devices at once. The built-in plugs are helpful for keeping unwanted cord clutter out of the way. And ledge around 3 sides is to keep items from falling off
RGB Color Changing LED Light: The color of the light strip changes according to the needs and the scene. The nightstand with multicolored RGB backlight provides great ambient lighting for your room at night. If you plan to use the bedside table as a set, 1 remote can control 2 tables. Changeable LED lights make your home more cool and stylish
Ample Storage Space: The size of the nightstand is 15.7"L x 13.8"W x 23.6"H. The coffee table with 2 drawers and open shelves gives you plenty of storage space for daily essentials. It suits small spaces like bedroom, dining room, office, and the lightweight size allows you to place it wherever you need it
Reliable Quality and Nice Look: The nightstand with LED light is made of high-end particleboard for added stability and durability. White appearance combined with the retro design adds a warm, classic and charming vibe to your room. It is both a bedside table and a sofa table and fits perfectly in your bedroom, living room, study
Assembly is a Breeze: Thanks to the explanatory & easy-to-understand instructions and simple structure of the side table, all you need is to follow the specific steps and swing the Allen key supplied. Everything is done in minutes. So don't wait any longer and enjoy it to your home right now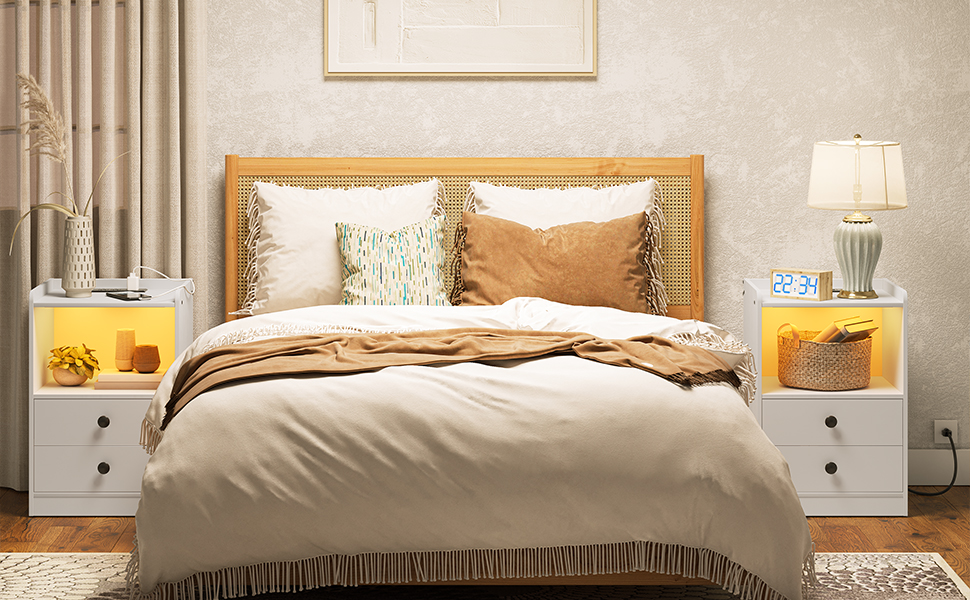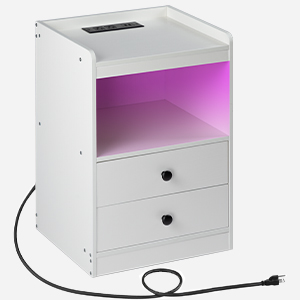 HOOBRO side table is the ideal choice for your living room and bedroom!
Are you missing a handy side table in your living room? Here is the perfect solution for you. HOOBRO nightstand with LED light not only provides ample storage space, but also has a charging station. One end table with charging station fully meets your different needs!
The white nightstand adds a touch of elegance to your room. It complements any room decor and fits perfectly in your bedroom, living room or entryway.
Specifications
Color: White

Material: Particleboard

Product Size: 15.7"L x 13.8"W x 23.6"H

Package Contents: 1 x Nightstand ; 1 x Accessory Kit; 1 x Instructions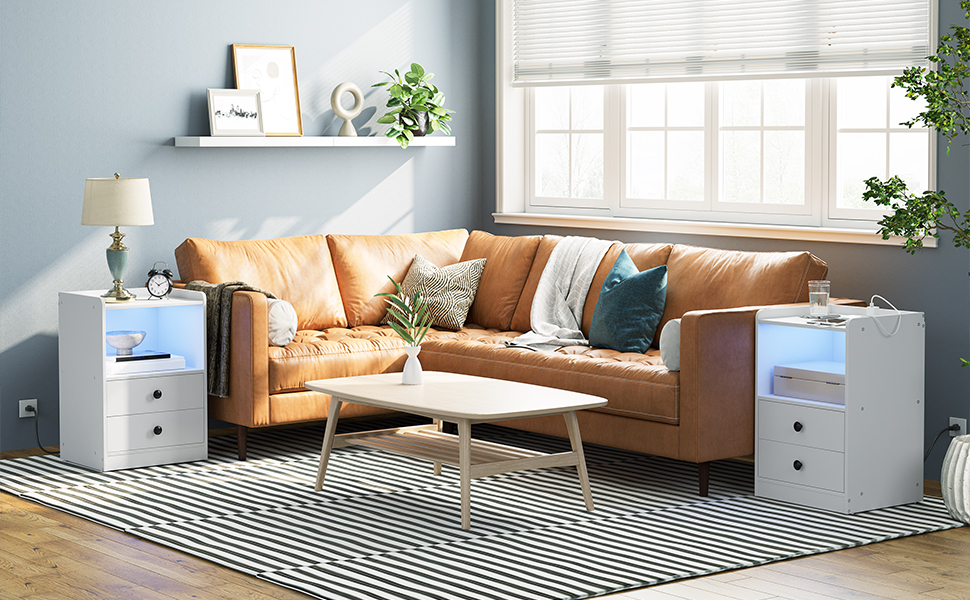 Side Table with Charging Station

The side table with 3-prong standard outlets and 2 USB ports is ideal for charging your phone, laptop and other electronic devices at once.

LED Light with Remote Control

If you plan to purchase two nightstands to use as a set, you can control the LED strips of both tables with just one remote.

Ample Storage Space

1 drawer and 2 separate open shelves expand the storage space and make daily storage no longer a problem.