Description
Cat Litter Box Enclosure, Hidden Cat Litter Box Furniture with Louvered Door, Spacious Hidden Cat Washroom with Divider, Cat Furniture Cabinet, Wooden Pet House, Rustic Brown and Black BF07MW01
MULTIFUNCTIONAL CAT CABINET - In the cat house, you can include a litter tray or cat basket or use this stylish cat bed as a bedside table, side table or living room table to combine them with the rest of your home. Carefully designed hidden cat furniture allows you to give your cat its privacy and take care of order, while allowing for simple storage

External dimensions: 80 x 45 x 46 cm. Suitable for most common cat toilet, like a traditional furniture, easily hides the container with a partition. Maximum useful size of the large cat toilet: 48 x 38 x 20 cm, the entrance on the right makes it even more interesting.

BEAUTIFULLY DECORATED CAT FURNITURE - This cat cabinet has a large top and a large plate for cat toys or art items such as floral arrangements, magazines that belong to an afternoon tea. Maximum static load: 60 kg

Good ventilation: the cat toilet has doors with ventilation slots to keep the cat house well ventilated, even if the door is closed when your cat is sleeping. E1 class chipboard provides a stable structure and easy to clean surfaces, so you don't have to worry about it.

Divider for storing clean litter on one side and using it as a litter tray on the other side. Super large interior, 1 built-in adjustable shelf, so even big thick cats don't have to worry.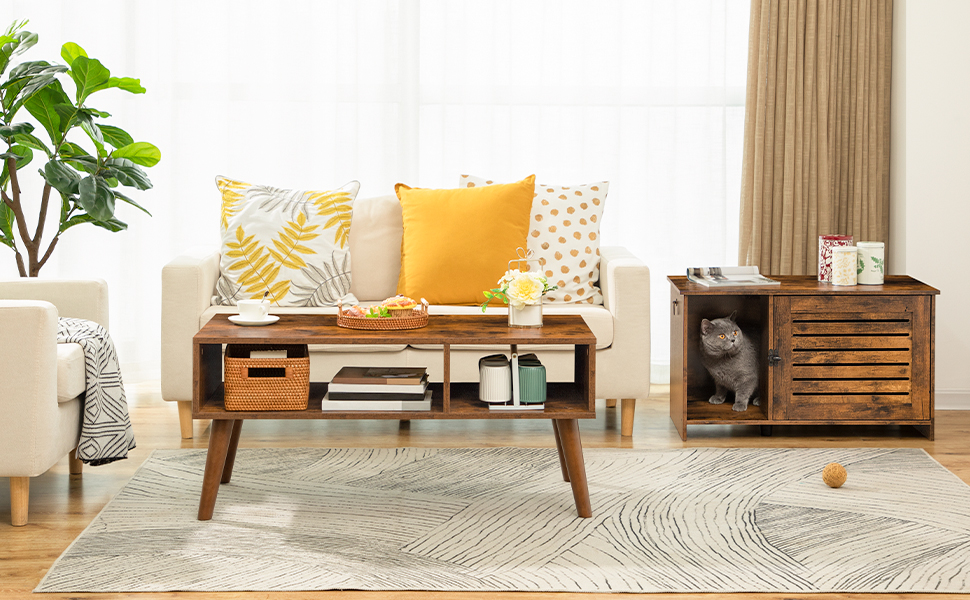 Having trouble hiding your cat's litter box?
This HOOBRO cat toilet house is the ideal option to hide the litter box or pet bed and unpleasant odors, to create a comfortable, beautiful and odorless home for your cat. Here's a clever way to hide the litter box by integrating it perfectly into your home decor. If you love your pet, offer him a warm and welcoming home!
This HOOBRO cat house looks like a classic bench or a bedside table, she knows how to dress up. This way she will not hide the charm of other furniture. Enjoy the company of your cat, hide its mess and unpleasant smells with the help of this decorative cat home.
Cat toilet house in the shape of a table!
Stylish interior decoration and a comfortable cat cabinet!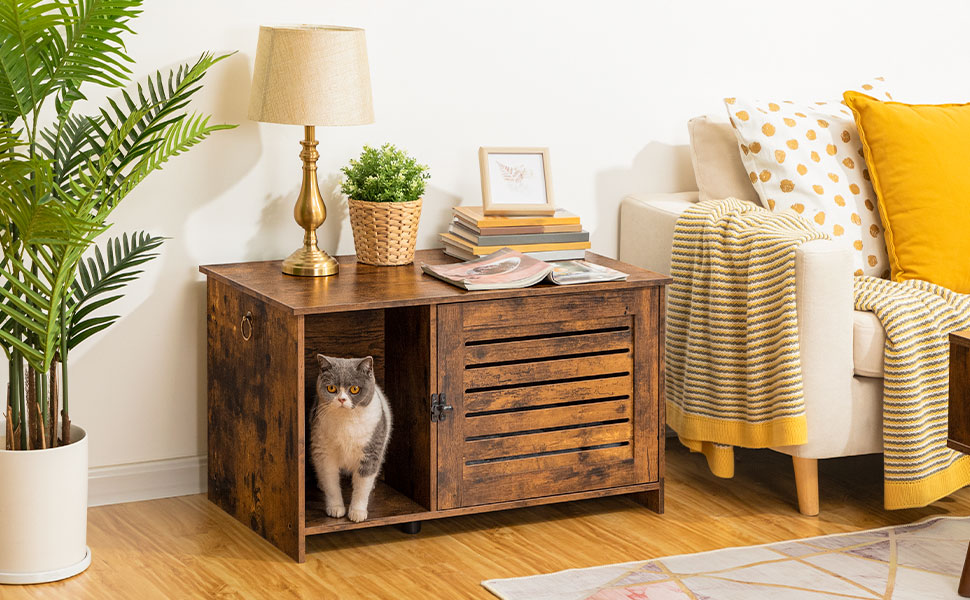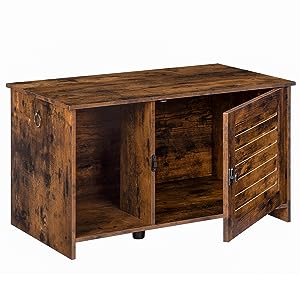 Specifications:
Color: Vintage
Materials: Particle board
Dimensions: 80 x 45 x 46 cm
Weight: 12.8 kg
Maximum Bench Load: 60 kg
Maximum internal static load capacity: 20 kg
Packaging Content:
1 x Cat Niche

1 x Assembly instructions (FR, DE, EN, ES, IT)
Magnetic latch

The stylish and atmospheric look of the cat toilet will not conflict with any interior

Well thought out design

Exquisite door lock is designed to provide a tight and secure lock so you don't have to worry

Easier Cat Grooming

Convenient door lock and double cabinet not only allow you to pick up litter every day and store cat food more easily; it is also easier to take out the litter box and mat