Description
Litter Box Enclosure, Wooden Side End Table, Cat Litter Box Furniture Hidden with Entrance, Concealed Cat Washroom with Cat Head Opening, Indoor Pet House, Fit Most Cats and Litter Box BF50MW01
Cozy and Private Space: This Litter Box Furniture Create a private resting area for you cat! Cats are vigilant and sensitive by nature. It matters for them to have their own private area. This pet house is perfect as a thoughtful gift. For cats, it is both a hidden cat toilet and a cozy cat house for sleeping

Cute Cat Hole: The single door is specially designed for easy access to the cat litter box, ensuring that the cat litter is not easily spilled everywhere, giving you a fresh and tidy home. The lovely cat head opening on the front and cat paw vents on both sides ensure better air circulation without odor

Classic Yet Stylish Look: The elegant rustic brown look of the cat litter house matches any decor in your home. It is more than just a cat litter box, it is also a nightstand or a side table. Why not put your magazine or a bouquet of flowers at the top of the cat litter box enclosure?

Right Size for Your Cat: External: 19.7'' L x 19.7'' W x 19.7'' H. The hidden litter box is large enough for most sizes of cat litter boxes. 1.4'' H above the floor for easy movement and cleaning. The portable and compact cat house will not take up much floor space

Easy as ABC: In order to deliver a pleasant shopping experience, we simplified the assembly method and steps. With the numbered parts and comprehensible instructions, even a child completes the assembly quickly without great effort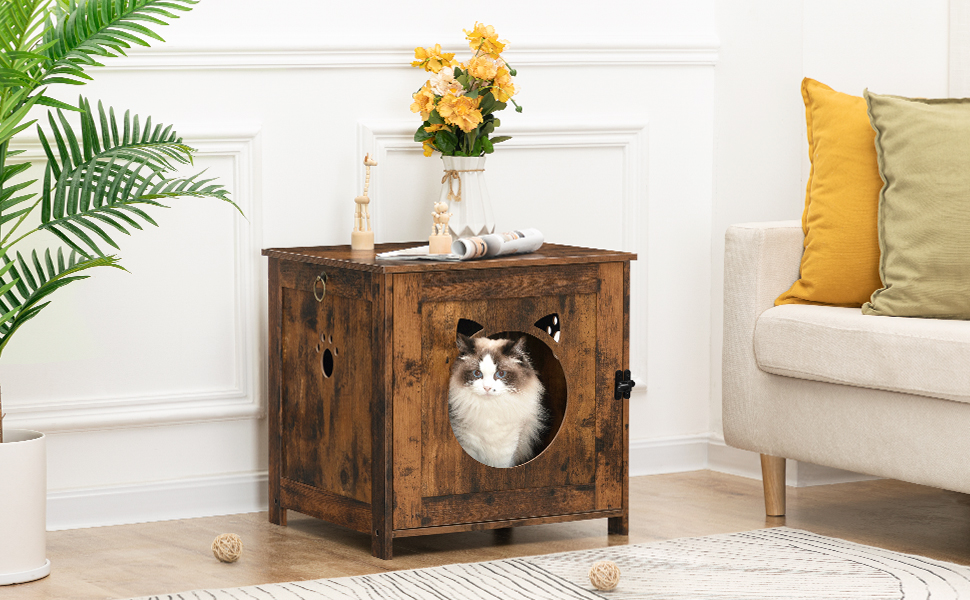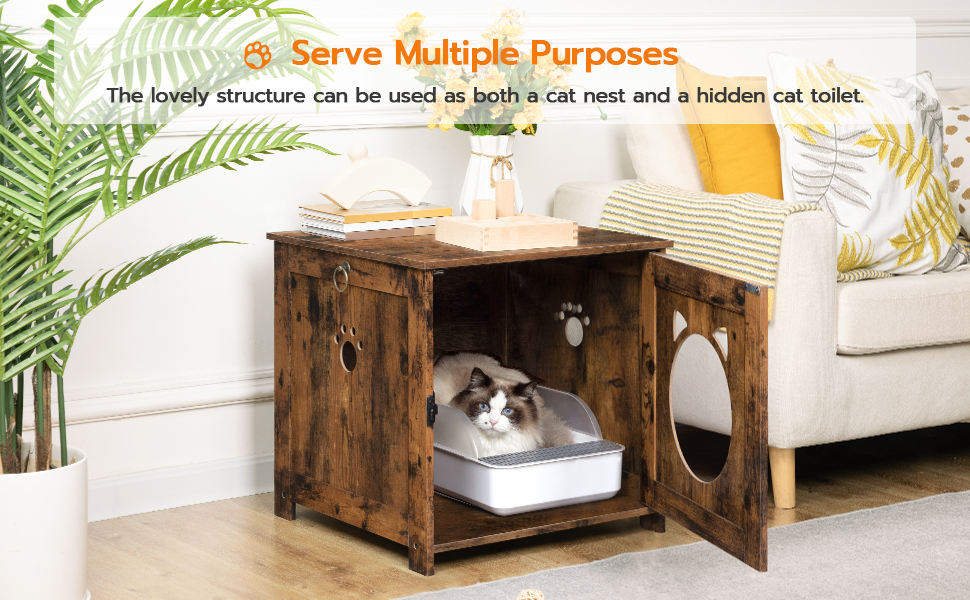 Reliable and Long-Lasting Material

The cat litter box enclosure is made of high-quality particleboard for greater strength and easy cleaning.

Comfortable and Odorless

The cat paw-shaped vents on both sides add a cute element while keeping your room fresh and odor free.

Easy to Move and Clean

A certain space is reserved at the bottom for easy cleaning.
Wide Opening

The wide entrance allows the big fat cat to easily enter and exit, which can also maintain good ventilation.

Right Size

Ample space can fit multiple sizes of cat litter boxes.

Multiple Uses

It is both a cat litter box and a side table, with a spacious top for phone chargers, headphones and other necessities.
Are you still looking for something to keep your dog away from the litter box?
HOOBRO cat litter house will provide you with an ideal choice. It can hide cat litter boxes or pet beds and unpleasant odors, build a comfortable, beautiful and odorless home for cats, and add a rustic theme to your room decoration.
Specifications:
Color: Rustic Brown, Black

Material: Particleboard

Size: 19.7'' L x 19.7'' W x 19.7'' H (50 x 50 x 50 cm)

Weight: 20.1 lb (9.1 kg)

Maximum Static Load Capacity of the Bottom: 66 lb (30 kg)
Package Contents:
1 x Cat Litter Box Enclosure

1 x Accessory Kit

1 x Allen Key

1 x Cat Head Mat

1 x Instructions
H
OOBRO Notes:
Children are not allowed to play or climb on the cat litter box to avoid potential injury caused by toppling.