Description
Cat Litter Box Enclosure, Hidden Cat Washroom with Roof, Wooden Litter Box Furniture with Door and Cat Head Opening, Indoor Pet House with Extra Space on The Top, Fit Most Cats BF75MW01
Sweet Home for Your Cat: The house-shaped design makes the cat litter box look adorable and chic. Put the unique cat house by the window in your bedroom, the private house for your cat will be a lovely element of your room. Keep the cat by your side so you can wake up and see your lovely pet at first sight. Bond with your kitten!

Extra Open Space: Cats love to jump up and down, and the extra space provided by this cat litter roof with a triangular area is just right for your cat. Let your cat jump from the floor to a extra space at the top so they can squeeze into a small, defined space where they feel safer and more secure

Easy to Move and Clean: Ring handles on both sides of the litter house allow you to easily move the entire litter house. The cat's head-shaped door makes it easier to put in and take out of the litter box, so there's no more litter scattered around which leads into a mess

The Right Size for You: 16.5'' L x 19.1'' W x 29.3'' H. The cat litter house is compact and lightweight which is perfect for small spaces. The lower cat house bears 66 lb and the top triangle area holds up to 110 lb. Fit most cats and litter boxes

Easy as ABC: In order to deliver a pleasant shopping experience, we simplified the assembly method and steps. With the numbered parts and comprehensible instructions, you can complete assembly quickly without great effort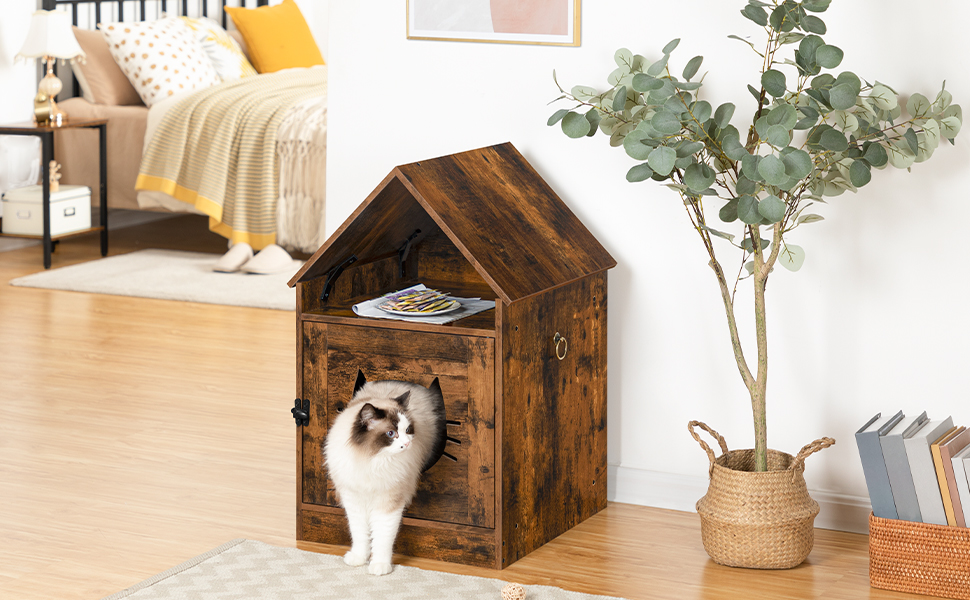 Are you still looking for something to keep your dog away from the litter box?
HOOBRO cat litter house will provide you with an ideal choice. It can hide cat litter boxes or pet beds and unpleasant odors, build a comfortable, beautiful and odorless home for cats, and add a rustic theme to your room decoration.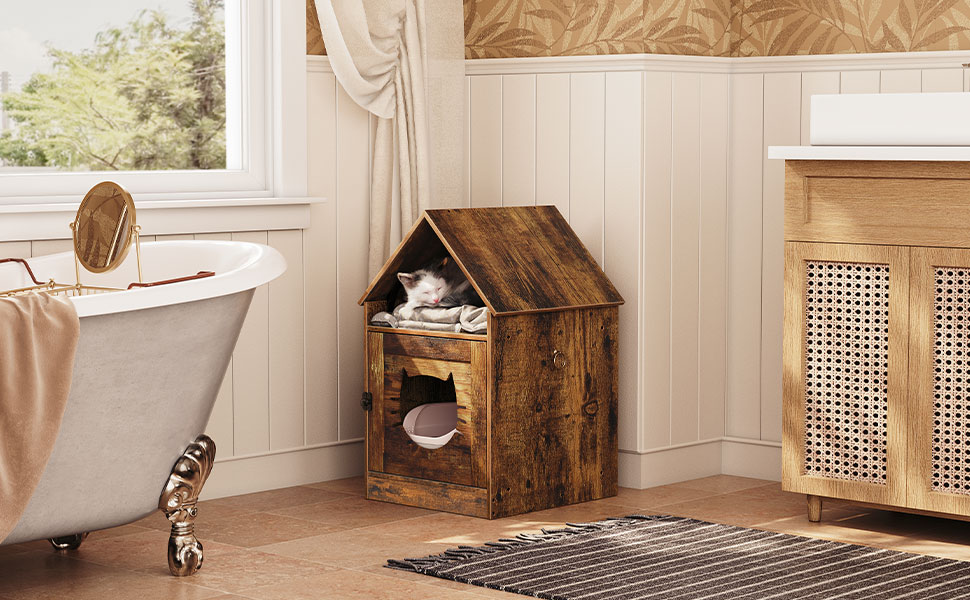 Specifications:
Color: Rustic Brown

Material: Particleboard

Size: 16.5'' L x 19.1'' W x 29.3'' H (42 x 48.5 x 74.5 cm)

Weight: 33 lb (13 kg)

Maximum Static Load Capacity of the Bottom: 66 lb (30 kg)
Package Contents:
1 x Cat Litter Box Enclosure

1 x Accessory Kit

1 x Allen Key

1 x Cat Head Mat

1 x Instructions
HOOBRO Notes:
Children are not allowed to play or climb on the cat litter box to avoid potential injury caused by toppling.
Extra Resting Area

The roof-shape design of the cat litter house like an attic, providing another secluded area for your kittens to nap.

Rotating Handle

Rotatable metal door handle provides with a firm and safe closure. door and handle design make it beautiful and elegant.

Comfortable and Odorless

The cat paw-shaped vents on both sides add a cute element while keeping your room fresh and odor free.
Right Size

Ample space can fit multiple sizes of cat litter boxes.

Magnetic Close

The top layer is equipped with a magnet, and the magnetic contact design makes it easier to open and close.

Wide Opening

The wide entrance allows the big fat cat to easily enter and exit, which can also maintain good ventilation.