Description
Standing Towel Rack for Bathroom, 4-Tier Blanket Rack, Towel Bar Stand for Oversized Bath Towel, Blanket Ladder Holder, Outdoor Pool, Drying and Display Rack, Greige BG70LB01
Save Your Space: With the perfect size of 23.6"L x 14.4"W x 31.5"H, this independent blanket rack works well in your bedroom, bathroom or laundry room to store and dry bath towels as well as to keep special clothes well ventilated. Occupying less footprint, this towel rack is compact to be at anywhere for hanging items
Classic Style: This industrial towel hanger is made of the black metal frame and rustic brown particleboard, simple and versatile, adding a modern flavor to your bathroom or bedroom. It blends the unique look and storage function to facilitate your daily life, complementing your current home decorations
Layered Design: This blanket rack has 4 horizontal rods with appropriate spacing so your hanging towels can be dried quickly without being wrinkled. The bottom shelf serves as the storage space for spare towels and bath supplies to help your quick access to what you need, convenient and time-saving
Easy to Move: The floor metal display rack adopts solid stainless steel for assured sturdiness. The base particleboard frees your towel rack from shaking. On sunny days, you can move this blanket rack to the balcony at will so that the sun can sterilize your towels or blankets
Simple Structure: The metal bars are perfectly combined with the particleboard and the structure is clear at a glance. Accordingly, you can finish the assembly in a breeze with detailed instructions, necessary parts and required tools. Take it home for your use!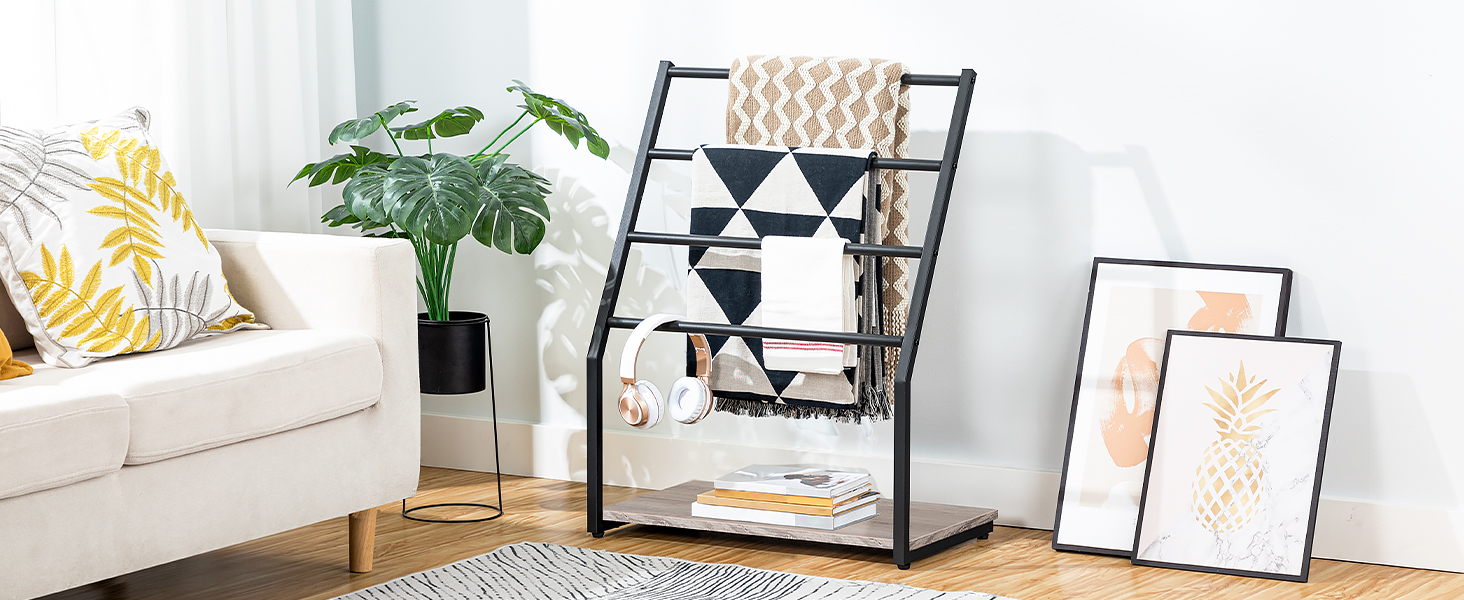 HOOBRO Freestanding Towel Rack
4-Tier Blanket Rack
This freestanding blanket rack has no requirement for screws to be screwed into the wall or the closet for installing the towel rails.
The 4 well-arranged rods in ordered heights are very suitable for washcloth, towels, blankets and quilts.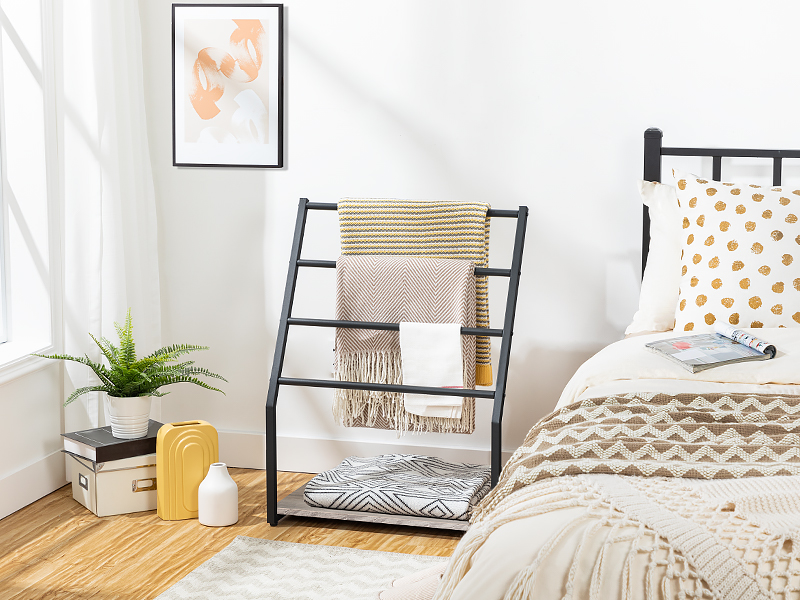 Hanging Your Towels and Blankets with Less Space!
Color: Black, Greige
Material: Particleboard, Metal
Product Size: 23.6"L x 14.2"W x 31.5"H (60x36x80cm)
Max. Static Load Capacity of Bottom Shelf: 33 lb
Package Contents: 1 x Freestandind Towel Rack; 1 x Accessory Kit; 1 x Instructions