Description
Litter Box Enclosure, Louvered Hidden Litter Box, Covered Cat Litter Box Furniture with Extra Storage Space, Side Table, Nightstand, Multifunctional, Adjustable Feet, Rustic Brown BF66MW01
Multifunctional and Multi-Scene Application: This HOOBRO hidden cat litter box enclosure can be used for multiple purposes. The lower part with spacious interior space is ideal for placing cat litter box as your cat's private washroom or for putting the scratching pad in as a lovely cat bedroom. 2-tier open shelves provide additional storage area and transform this cat litter box enclosure into a practical side table or storage cabinet. Multiple functions integrate to meet a variety of scenarios, so you can put this cat house in the living room, bedroom or corridor to create a comfortable environment for your pet and add a different style to your home

Double-Layer Storage, Practical Usage: Our hidden cat litter box consists of a spacious top, an open partition and a double-door cabinet, which actualizes your arrangements to display your favorite decorations like potted plants or dolls on the top, to store pet supplies or books on the open shelf. 2-tier design increases the utility of this cat washroom

Shutter Door with Many Advantages: The particularly designed shutter door of this cat litter house can not only ensure the ventilation of the cat litter house, keep the internal air fresh, but also avoid light and transmit light simultaneously, better suiting you and your cat's needs. In addition, the shutter door has a natural retro beauty, which can be easily integrated into various home decoration styles. When the light passes through the gap of the retro brown shutter door, it adds a dynamic sense of change to the cat litter box

Large Cat-Head Entrance: The large entrance is very suitable for cats of various shapes and convenient for the cat's to enter and exit freely. The cat head design makes this rustic and fashionable cat litter box more cute and diversified. Furthermore, you can assemble the entrance door on the left or right based on your needs. More choices can satisfy your varied needs of entrance door position because we are striving for exercising our original mind with more cares

Simple Assembly, Easy Cleaning: The cat litter box enclosure is made of premium particleboard with smooth finish. With easy-to-read instructions, labeled parts and required tools, you can have this cat litter box enclosure quickly and effortlessly. Regularly, a gentle wipe with a wet cloth can make it clean as new. Create a warm and cozy home for your beloved cat with your hands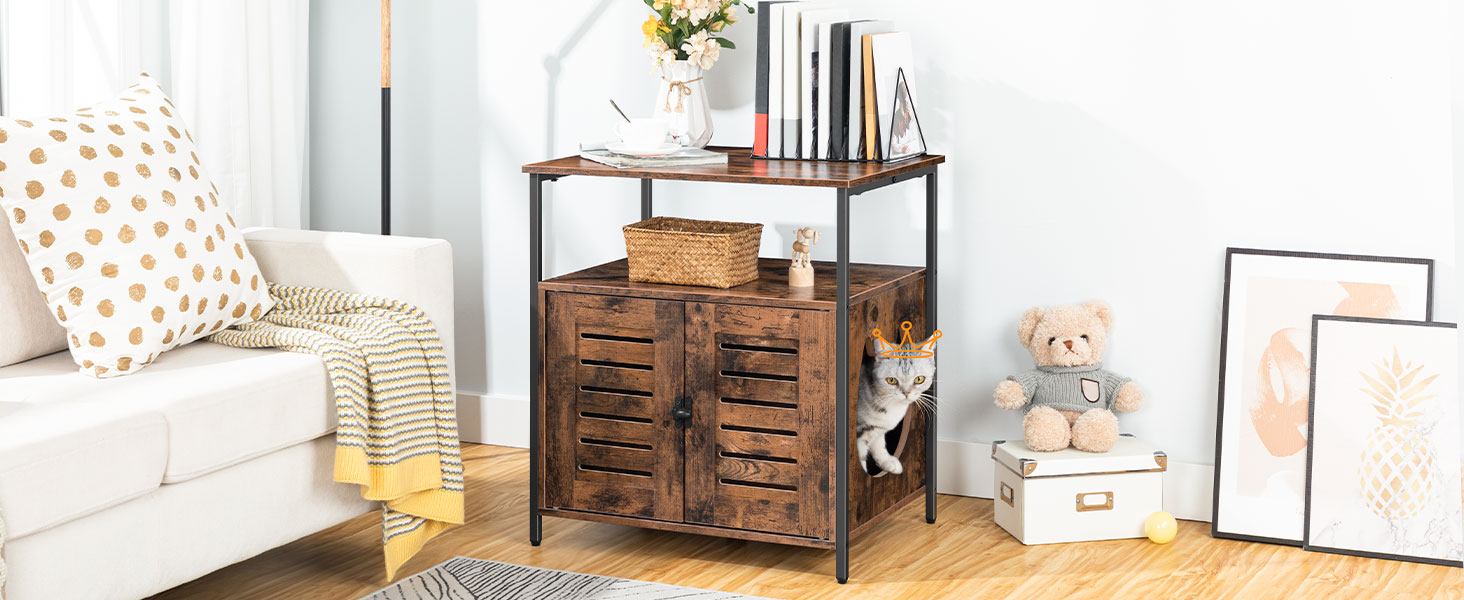 HOOBRO Feature-Rich Integrated Cat Litter Box Enclosure
In line with the original intention to meet the diverse needs of customers, we designed this cat litter house as a modern furniture that takes into account various furniture functions such as side tables, racks, lockers, etc. The multi-layer storage space is more practical with open shelves for your cat supplies, green plants or desk ornaments, making everything clear for quick access and decorating your home.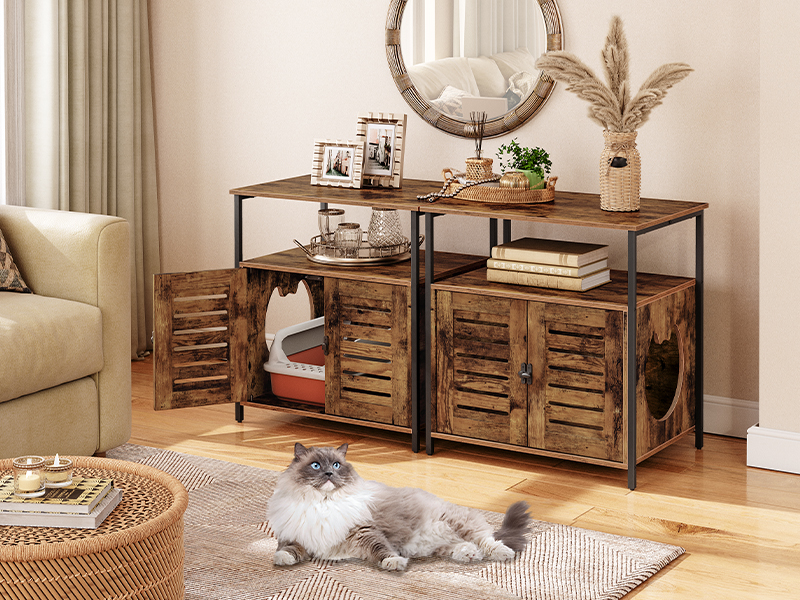 | | |
| --- | --- |
| Color | Rustic Brown |
| Material | Particleboard |
| Product Size | 23.6 x 17.7 x 25.6 inches (L x W x H) |
| Product Weight | 28.4 lb |
| Package Contents | - 1 x Cat Litter Box Enclosure - 1 x Accessory Kit - 1 x Allen Key - 1 x Instructions |
Detail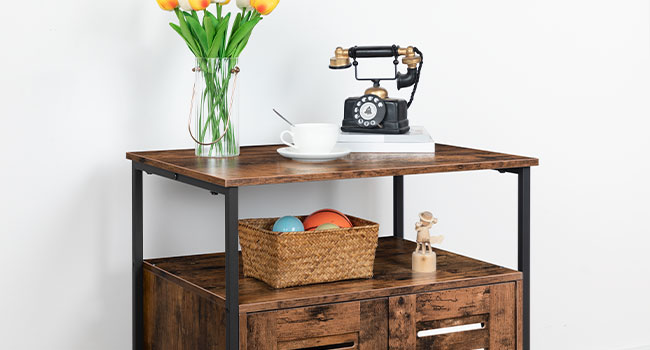 Storage Shelves
The wide top panel provides you with more storage space, thus transforming the cat litter box into a multifunctional storage cabinet and side table.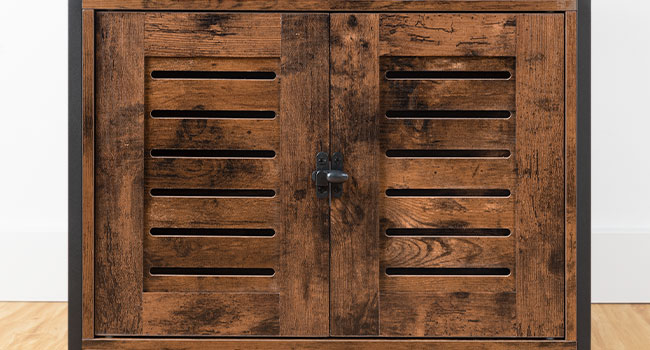 Blinds Double Door Design
Stylish and rustic shutter double door keeps soft light and good breathability, and the magnetic device eases the door opening and closing as well as your daily cleaning.