Description
Litter Box Enclosure, Cat Litter Box Furniture Hidden with Divider, Hidden Litter Box Large Litter Box Furniture, Wooden Pet House, End Side Table, Living Room, Bedroom, Rustic Brown BF03MW01
| | |
| --- | --- |
| Brand | HOOBRO |
| Material | Wood chipboard |
| Colour | Dark brown / vintage. |
| Style | Vintage |
| weight | 17.4 Kilograms |
| Target species | Cat |
A small gift for your cat: Cats are waiting for you when you come home from work, and they give you strength for your life when you eat and watch TV with them. This pet house has a stylish exterior and will not clash with any decor.
Another point - the width of the top plate: Max. static load capacity of the surface 100 kg, cat cabinet with a large table top, perfect for magazines, lamps, cups etc. It is not only a cat house, but also a storage bench. The largest applicable size of an oversized cat toilet: 56 x 42 x 16.5 cm. Keep the cat toilet hidden and odourless and benefit from additional storage space at the same time.
Privacy: Cats are naturally hyper-vigilant and this litter tray gives your cat the space to hide and poop in peace. And the litter is not easy to get out. Cat waste no longer sticks to the litter box, so you have to wash the litter tray less often.
Easy care for your cat: Thanks to the 2 doors on the cat toilet, you can clean and store the cat food more easily. The cat toilet and mat are more accessible, making it more fun for both you and your cat. Thanks to the easy-to-follow instructions (English language cannot be guaranteed), this cat house is easy to set up.
Better large than small: The cat house has internal divider to store clean cat litter on one side and use as a litter toilet on the other side. Super large interior, 1 built-in adjustable shelf, so even large, fat cats don't have to worry.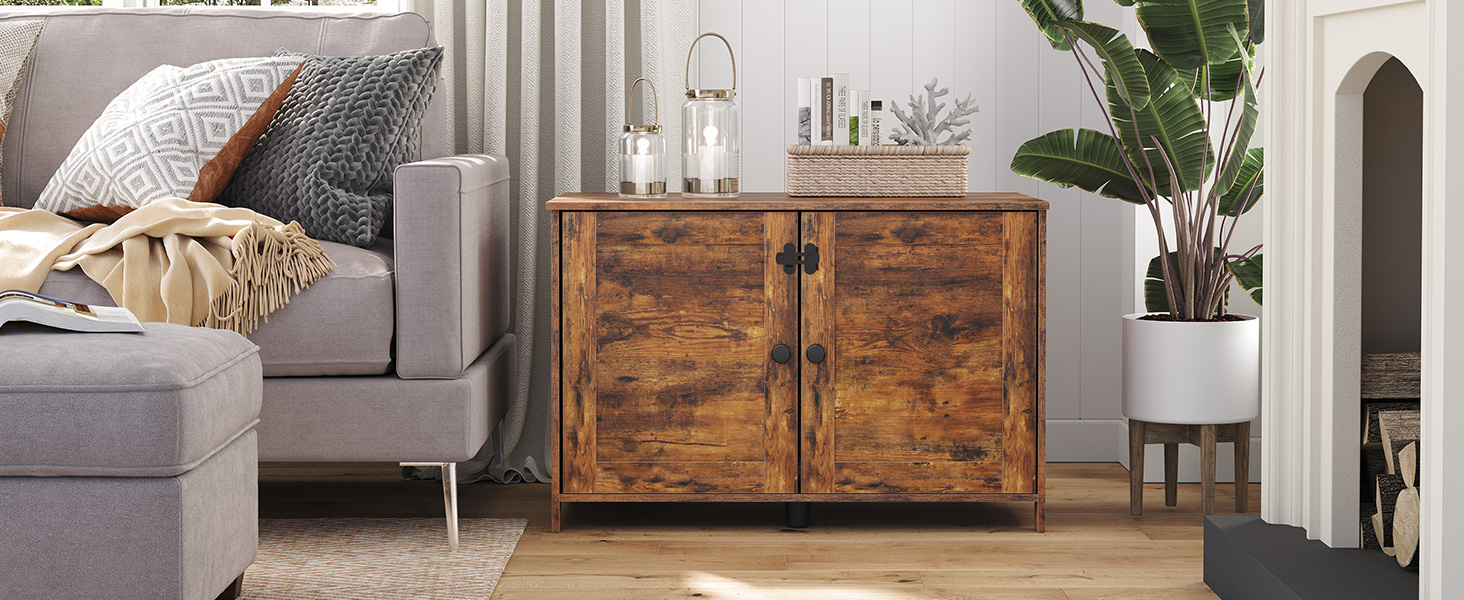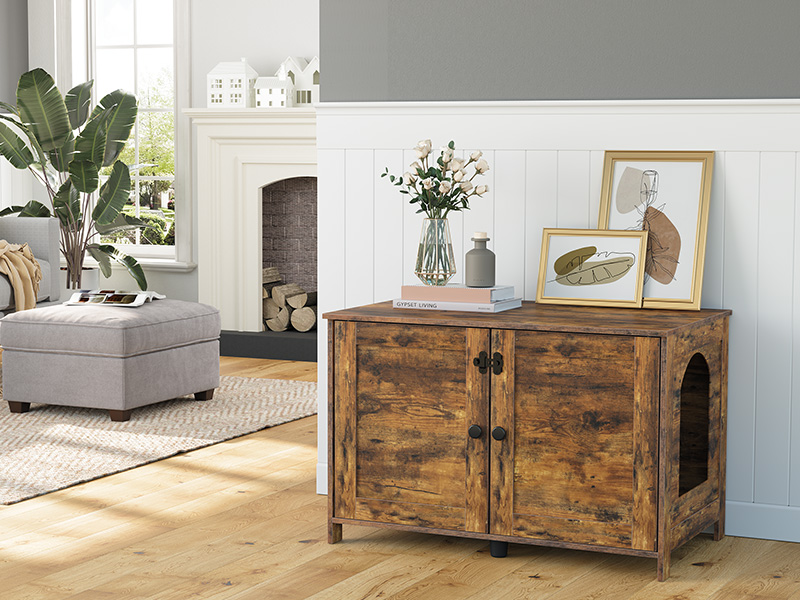 If you love your pets and don't like their cat litter box collides with a well-decorated house, then this cat litter box is the ideal solution that you and your cat can enjoy together. It can be placed in the bedroom to accompany you at night, in the living room, to play together and spend boring hours, or in the foyer to welcome you home every day from work and make your life better and more motivated!
Product details:
Colour: Dark Brown / Vintage
Material: Chipboard
Size: 80 x 50.5 x 54 cm (31.5''L x 20.2''W x 21.3''H)
Weight: 17.4 kg
Box contents:
1 x cat house,
1 x mounting accessories,
1 x Allen key,
1 x instructions