Description
Cat Tree Tower with Litter Box Enclosure, Wooden Cat Condo with Scratching Posts, Cat Hammock, Hidden Litter Box Furniture, All-in-One Indoor Cat Villa, Rustic Brown FG48MZ03
Cats' Dream Castle: This cat furniture combines a cat litter box enclosure, a cat house, a hammock, a lookout, a sisal column, a cat scratch board, and funny cat sticks into one body, creating a multi-layer magic castle for cats and meeting the different needs of cats such as playing, resting, and relaxing. Choose our cat villa and give your cat a loving gift!

Shutter Cat Litter House: Are you still worried about the litter all over the floor? The cat litter house with double shuttered doors at the bottom is breathable and transparent, giving the cat more privacy and making the room more tidy. The internal space of 22"L x 18.3"W x 18.3"H can be a cat toilet or a place to store cat supplies, everything being orderly

Ideal Places for Resting: Cats naturally like climbing. The top soft platform with fluffy texture made of plush can be a watchtower and a leisure area for cats to lie down and rest. The cute hammock in the middle made of flannelette presents a sense of low-key luxury, giving cats endless love. The well-placed food bowl is beneficial for cats to replenish energy at any time

Let Cats be Themselves: This cat villa fully considers cats' habit of climbing and jumping as natural hunters. It creates a multi-layer cat amusement park through an inclined scratching board and sisal pillars of different heights, allowing cats to climb freely and grind their claws. Detachable cat teaser sticks with hanging balls let cats simulate hunting and release their nature

DIY a Cat Park for Your Pet: You'll receive clear and detailed assembly instructions, numbered accessories and the necessary tools for easy installation. You can build your pet's own playground and keep your cat entertained without wasting too much time and effort thanks to the simplified assembly steps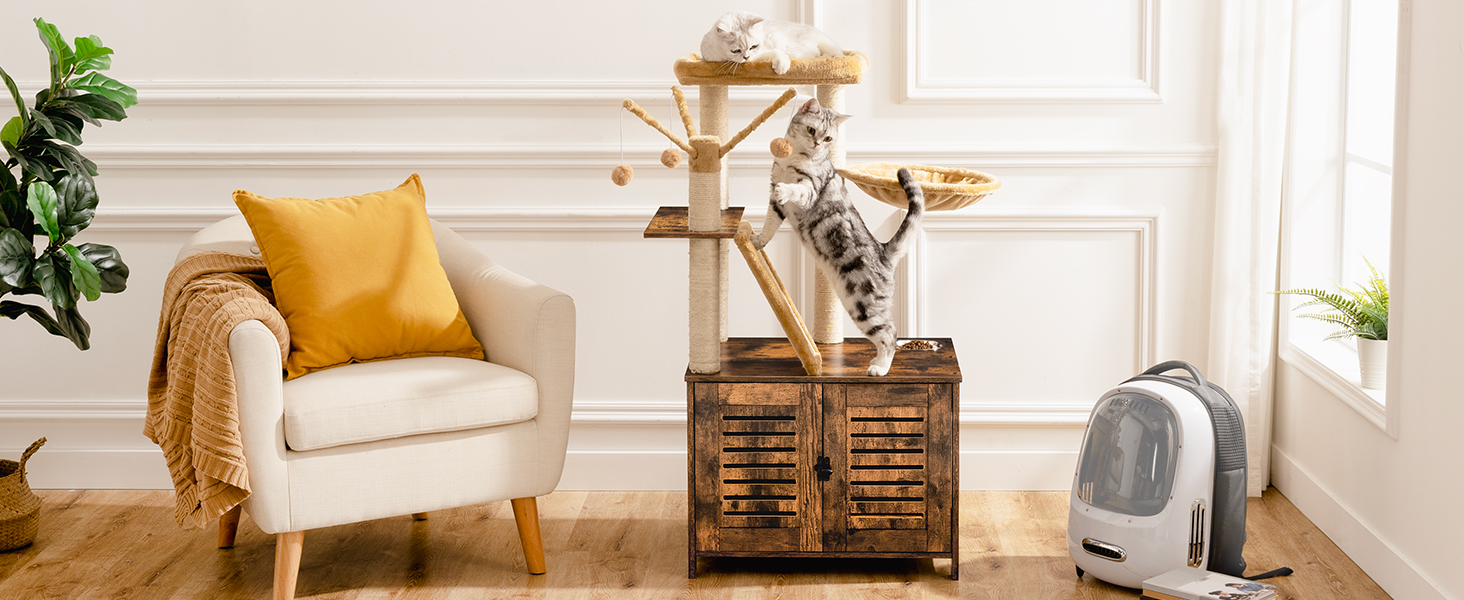 HOOBRO All-in-One Cat Tree for Cats' Long-Lasting Happiness!
It is an elegant cat tree combining the rustic color, stylish shutter doors and an arched entrance to ornament your home decoration and elevate your taste while maintaining its original role of cat home. The scratching board, sisal posts, teaser sticks, the hammock and cat litter house integrate into this multi-level cat furniture so that cats can climb, grind their claws, play and relax. Cats will be fascinated by this functional cat tree.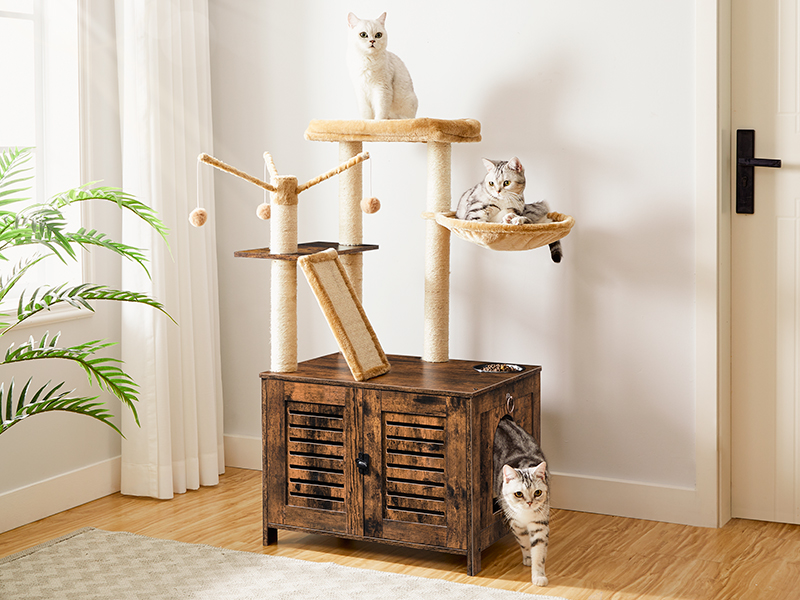 | | |
| --- | --- |
| Color | Rustic Brown |
| Material | Particleboard, Plush, Sisal Rope |
| Product Size | 22"L x 18.9"W x 44"H |
| Product Weight | 34.5 lb |
| Package Contents | 1 x Cat Tree; 1 x Accessory Kit; 1 x Anti-Tip Kit; 1 x Instructions |
Detail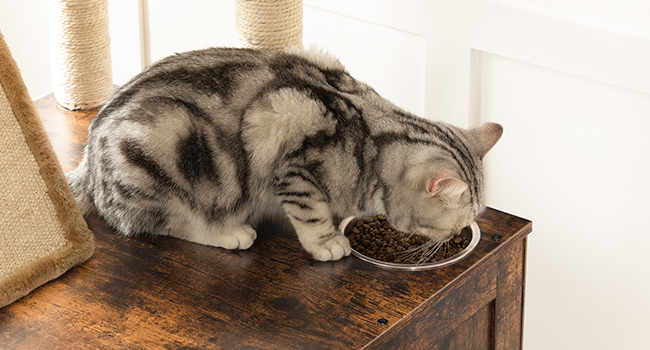 More Equipment
An extra food bowl is equipped at the top of the litter box enclosure for feeding cats and it can be detached for easy cleaning.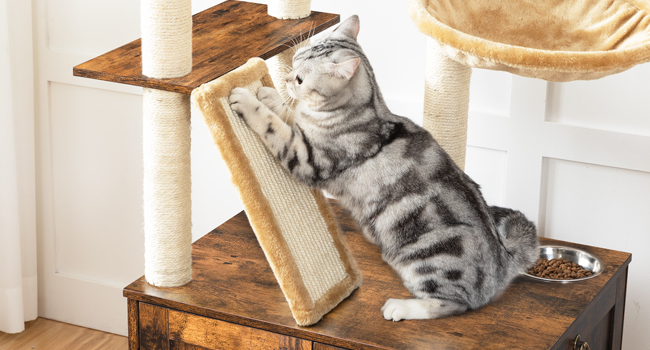 Sturdy Scratching Board
The scratching board connects the cat tree and cat litter house to benefit cats' grinding claws, easy climbing and jumping.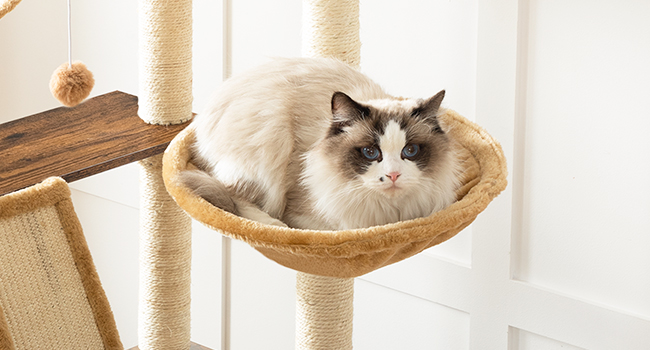 Cute Hammock with Comfort
The soft plush material is selected to create a comfortable and sweet environment for cats to sleep more soundly.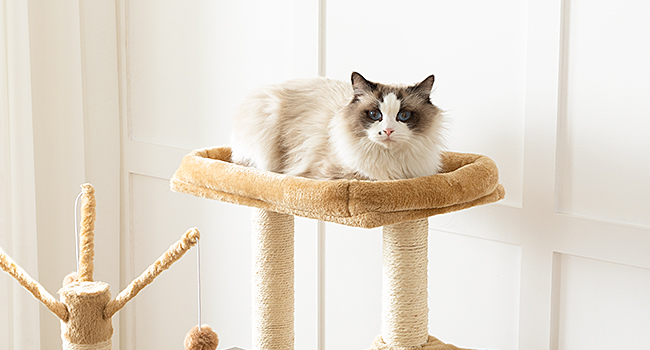 Soft Platform
The top soft platform with plush cushion is both a watchtower and a space for cats to lie down and relax.