Description
Cat Tree Tower with Litter Box Enclosure, Hidden Cat Litter with Scratching Post and Soft Plush Perch, Wooden Cat Furniture, Indoor Pet Cabinet with Multiple Platforms, White WT12MW03
Multifunctional Enclosure with Endless Fun: This cat litter box enclosure is a combination of cat house and cat tree. The bottom wooden house is an ideal place to place a cat pad or litter box while the top rest stand and perch with a plush ball offer the space for your cat's relaxation and entertainment
Built to Last: The pet furniture is equipped with the anti-tip kit so it can stand level even hit by the cat's violet jump. With 3 tightly-wound and hard-to-scatter thickened sisal covered cat scratching posts, your pet cat enjoys its relaxing time by grinding its paws without scratches on the furniture
Extra Private Space: Cats love jumping up and down. Your cat will be satisfied by this cat litter house designed in multiple layers because it can jump directly to the plush stand for a nap or to the top perch for all-round view. This cat toilet will be a favorite for your cute pet
Fashion with Elegance: Designed in simple lines and rustic brown appearance, this indoor pet cabinet integrates with multiple home styles while the compact shape proves its strength to save space. It will be an attraction in any places like living room, bedroom or corner
Appropriate Dimensions: The sizes related to this cat litter furniture are as follows: overall size 20.5''L x 17.7''W x 50.4''H; internal available area 19.5''L x 17.1''W x 16.7''H; this cat house can work with most cats and cat litter boxes. No litter scattered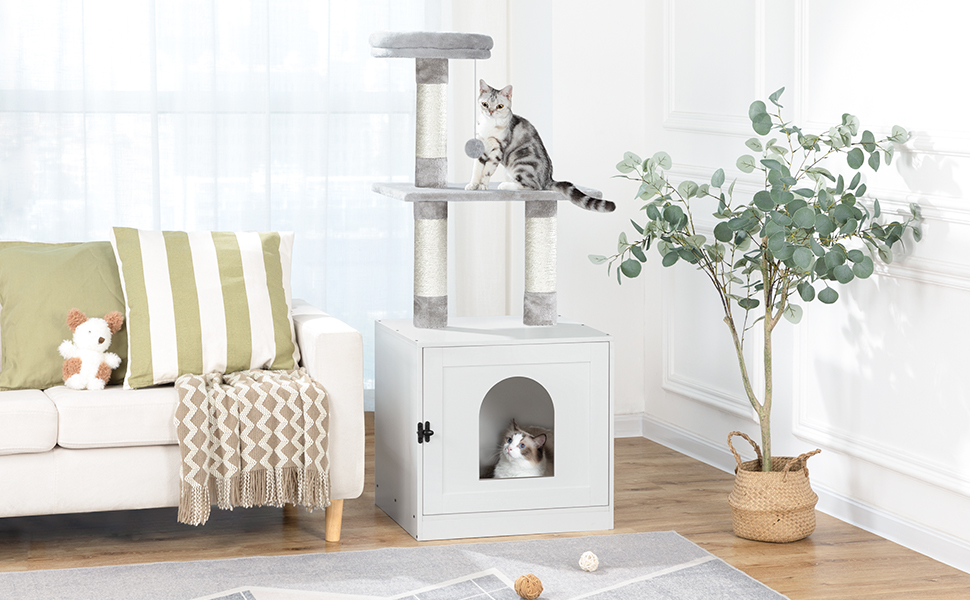 If you have a cute cat but feel tired of ugly smelly litter boxes, our cat litter box enclosure with cat tree can be an optimal solution to stop your above struggles. The perfect combination of cat house and cat tree demonstrates the practicality of this cat washroom as a litter box enclosure and a piece of furniture. Boards are made of P2 particleboard with delicate finish, harmonizing with your home decorative styles.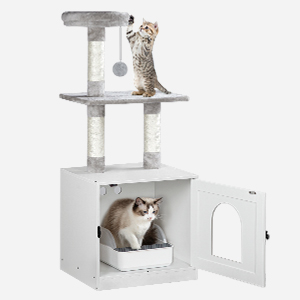 Specifications:
Color: White
Material: Particleboard, Plush Fabric, Sisal
Size: 20.5'' L x 17.7'' W x 50.4'' H (52 x 45 x 128 cm)
Weight: 34.2 lb (15.5 kg)
Maximum Applicable Size of Litter Box: 18.9 x 15 Inch
Package Contents:
1 x Cat Litter Box Enclosures
1 x Cat Tree
1 x Accessory Kit
1 x Instructions
Extra Rest Space

The stand above the house is another space for your cat's amusement.

Anti-tip Kit

Exclusive anti-tip kit frees the cat house from shaking when hit by the cat's violent jump.

Top Perch

Soft plush pad comforts your cat in a cozy area.
Scratching Posts

Thickened sisal material ensures the posts?? resistance to scratching and tightness from scattering.

Comfortable and Odorless

The vents on back add a cute element while keeping your room fresh and odor free.

Reliable and Long-Lasting Material

The cat litter box enclosure is made of high-quality particleboard for greater strength and easy cleaning.
HOOBRO Notes:
Children are not allowed to play or climb on the cat litter box to avoid potential injury caused by toppling.